Everyone has a Phone but not everybody keeps a power bank. Every Filipino need to have one especially during the rainy season where electric cuts could be experience.
It could help prevent stress caused by not being able to use our smart phones due to low battery during emergency purposes. So, this item is a must have. Don't wait for the lights to go out before buying your own powerbank.
A Power Bank is a portable charger which can be use to power up or charge up our mini electronic devices like phone, speakers, headset, tables. Normally its very slim in size so we can use it while we are on the go.
Here are the top 5 recommended list which we think could be a good fit for you. We have selected the best ones that could help us during this time and at the same time those that are quite affordable.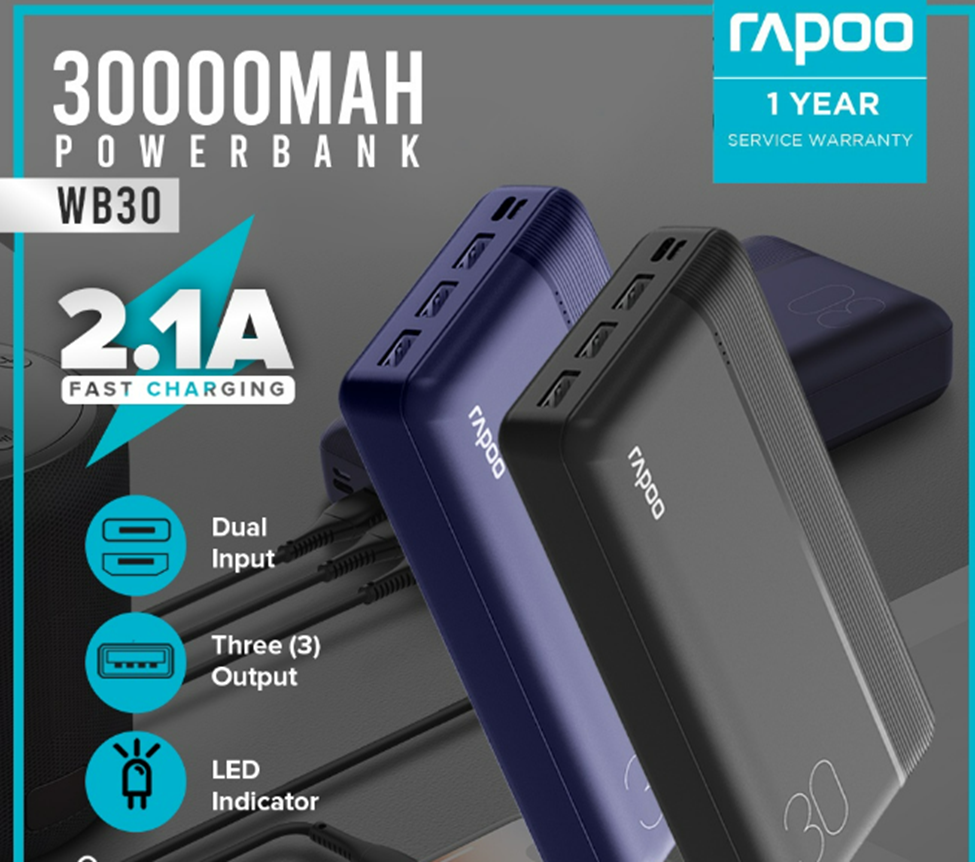 Rapoo WB30 30000mAh Powerbank 3 USB output Fast Charge Li Polymer High Capacity Powerbank Original
Rapoo is a well know brand especially in gadget developments. This power bank packs a solid 30,000mAH source of power so it can charge your phone multiple times. It supports 2.1 A fast charging capability as well, and it has a 1 year warranty so there is no need to worry for using it for the whole year.
Below are the other specifications or features for this powerful power bank.
Rapoo WB30 30000mAh Powerbank Li Polymer Fast Charging Battery power bank , 3- USB Output, 2-Input
Capacity:30000mAh
Battery:Lithium polymer battery
Fast Charging Powerbank, 3 USB Output
Dual Input (Micro USB and USB Type-C)
Support three devices to charge at the same time
High-capacity power bank,keep power all day
LED Light power display
Fit Charge intelligent match technology Widely compatible
Universal Compatibility
Size:160*80*32.6mm
Weight: 671g
Input(Power bank Charging port): 5v-2A (Micro Usb, Type C)
Output:Output:5V==2.1A/5V==2.A/5V==2.A
As a heavy powerbank, Rapoo WB30 30000mAh Powerbank , can do multi tasking of charging multiple phones or gadgets at the same time. It's a heavy duty powerbank but expect a little extra weight for this power bank as it weighs around 671 grams. This is very useful if multiple people in your house are using gadgets.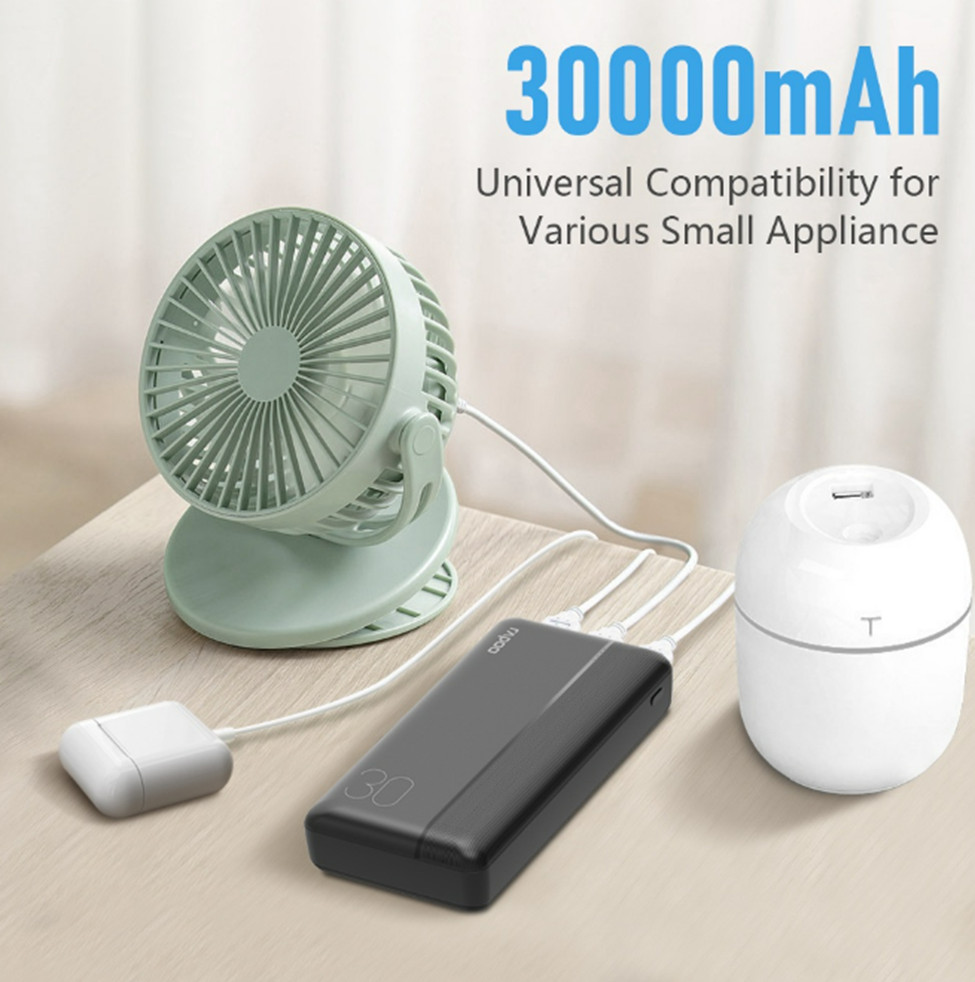 Overall this is worth the price as it has multiple purpose and can charge your phones multiple times.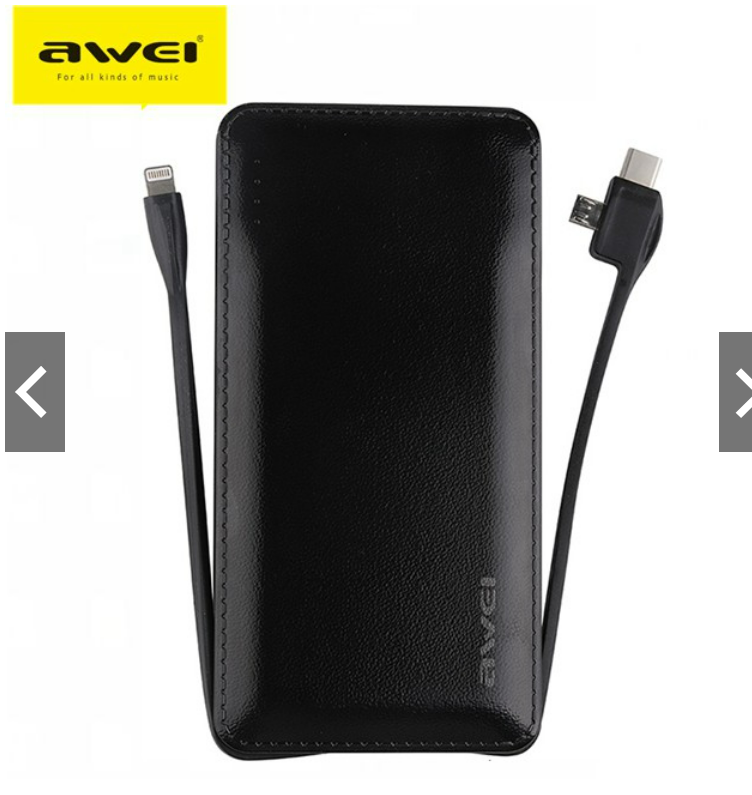 Awei P51K Lithium Polymer Super Thin Portable Powerbank 10000Mah
Awei P51K power bank offers the same multiple charging capabilities and as you can see on the photo, it has a built in charger cables for Android and IOS version phones. It does not offer a quick charge capability like the Rapoo WB30 30000mAh but it has a much lower weight which can offer convenience when you are traveling. The built in cable system means you don't have to bring extended usb cords as well which saves tangling of your items inside your bag.
Brand Name: Awei
Battery Type: Li-polymer Battery
Features: Built in Cables
Output Interface: Double USB
Output Interface: Micro Usb
Output Interface: Lightning
Input Interface: Micro Usb
Input Interface: USB Type C
Input Interface: USB
Shell Material: Plastic
Type: Portable Power Bank
Support Quick Charge Technology: No
Color: White or Black
Size: 145*72*15
Material: Leather +ABS+PC
Capacity: 10000mAh
Weight: 218g
input port: Micro,Type-C, For iPhone
Model: Thin Portable Power Bank Bussiness Style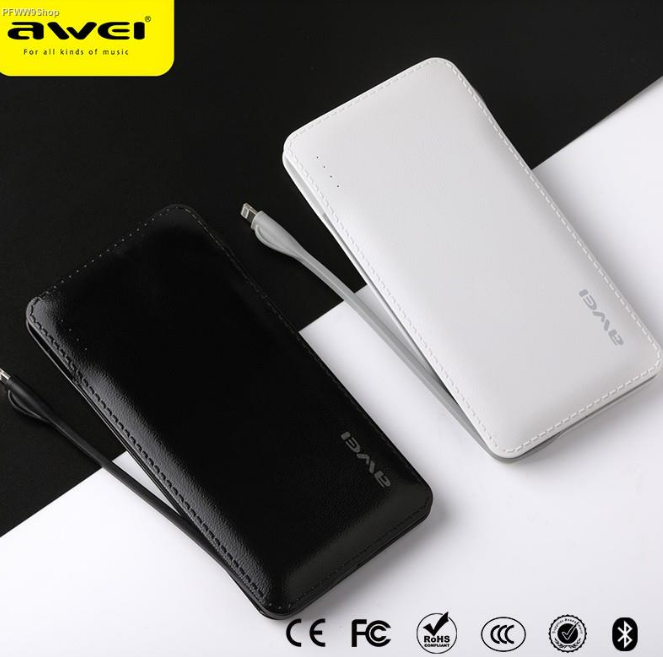 It comes in 2 colors which is black or white.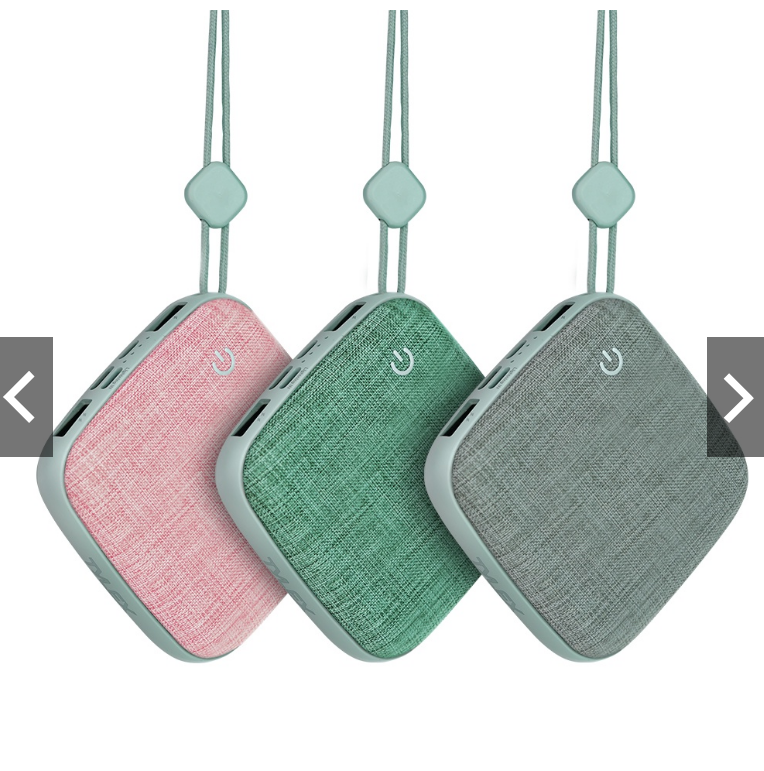 Tylex XP08 10000mAh Mini Powerbank Dual Outputs 3 Inputs 5V 2.1A Linen Texture
Are you looking for a sleek design which could fit your fashion style for trends? Why not try Tylex XP08 10000mAh Mini Powerbank Dual Outputs 3 Inputs 5V 2.1A Linen Texture. It comes in 3 different colors, pink, gray and green for those who like to have aesthetic values on their gadgets while serving its purpose on charging multiple gadgets while on the go. Below are the specs for this product.
Tylex Powerbank
Capacity Size 5000 – 10000mAh
Number of Ports 3
Powerbank Features Fast Charging, Multiple Device Charging Input Type
Others
Warranty Duration 3 Months
Mobile
Cable Type Others, Lightning, Type C, Micro USB Warranty Type
Aside from its design this product has a fast charging capability which we really need during this times where we constantly use our gadgets for our daily activities, you can charge multiple devices at the same time due to its multiple ports.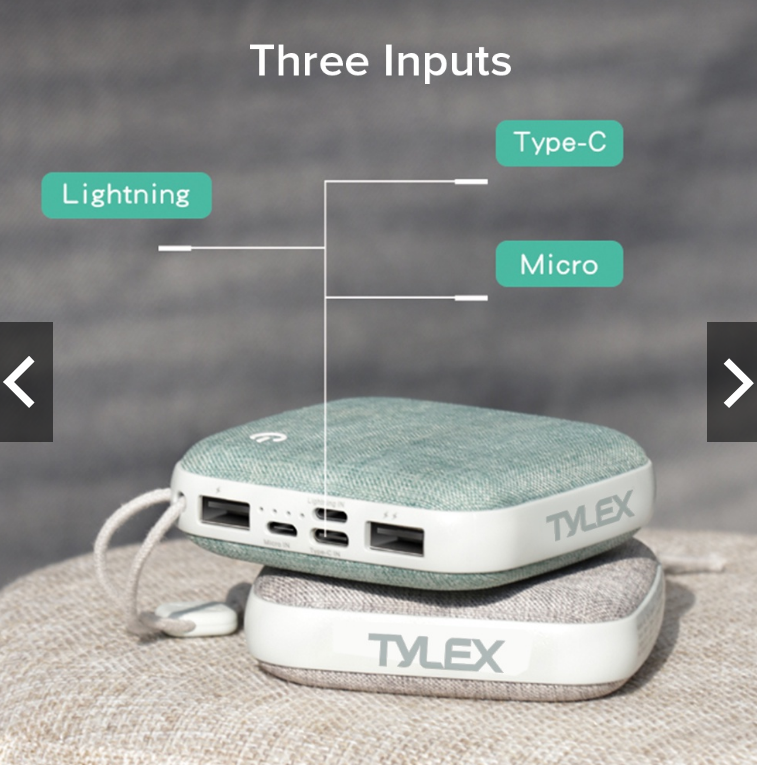 Romoss power banks are well know in the market, in particular you can select a wide range of power boosts coming from this brank, so I can't missed out this brand for the top power banks in the Philippines.
This particular power bank has a selection of 26.8k or 30k mAh capacity which is above the normal average of power banks. It has multiple output range which can be auto triggered or selected on based on the port location, for the the bigger version of 30kmAh, yes the weight can go slightly high at 640 grams but still I think is manageable.
The design includes a LED power indicator at the top center of the package. It has a dual output with 3 inputs plug in ports for convenience.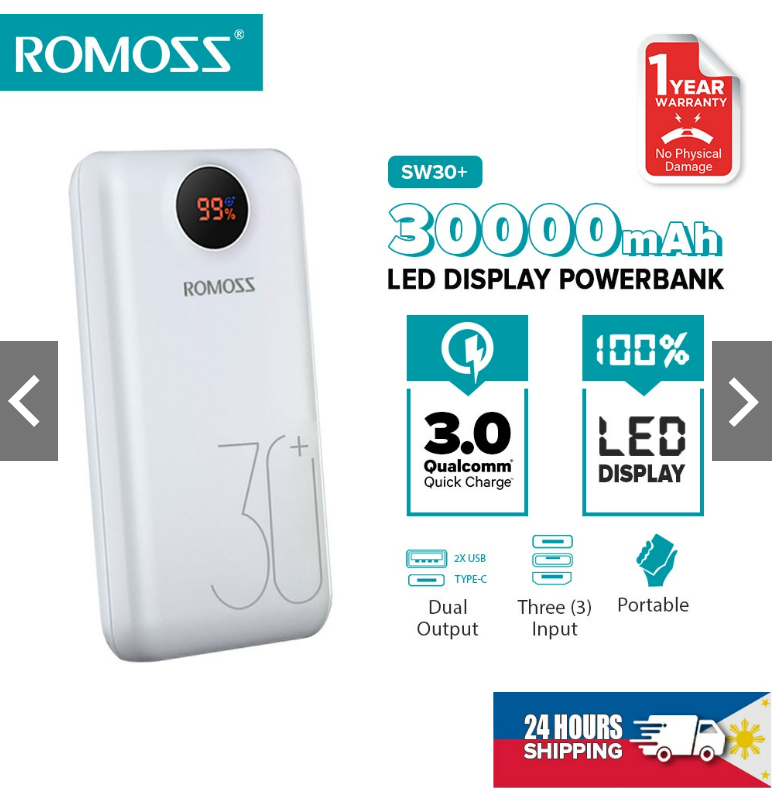 Romoss SW30PF 30000mAh 22.5W Super Fast Charge Power Bank
Capacity: 30000mAh
Input: 5V 3A/9V 2A (Type-C) 5V 2A or 9V 2A ( /Micro USB/⚡)
Output: 5V 3A or 9V 2.22A/12V 1.67A(Type-C) 4.5V-5A or 5V 4.5A or 9V-2A or 12V-1.5A (USB-A②) Size: L171.5 x W82 x H33.6 mm
Number of USB ports: 2
Weight: 640 g
Color: White
Packing List: Power bank*1, data cable*1, manual*1
Pineng power banks have been here for the longest time I can remember. This brand has proven itself in the power bank business because of the durability of its products. Personally my Pineng power bank is still working even after 3 years of using it.
This particular product we choose for our top 5 list of power banks in Philippines as it caters to high tech devices which are utilizing wireless technology which I think would be the future of most gadgets we are using. It offers a pack as well as it has 10kmAh power capacity.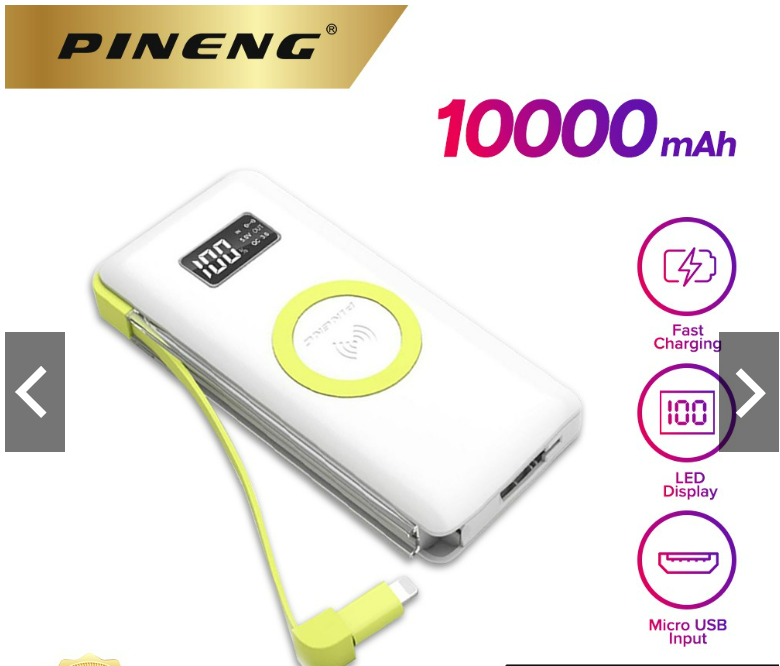 PINENG PN-888 10000mAh Wireless Charging 2 Output ports Qualcomm Quick Charge Powerbank
Here are the specs of this wireless powerbank.
•Input: 5V2A / 9V2A / 12V1.5A
•Output: QC3.0: 4.6V-12V 3.0A-1.5A (automatic match) 18W
•Model: PN-888
•Capacity: 10 000 mAh
•Rated output: ≥ 630mAh (5V) ≥31.5Wh
•Color: White
•Fast Charging: Yes
•Overheating Protection: Yes
•Short-Circuit Protection: Yes
•Battery Full Protection: Yes
•Overpower Protection: Yes
•LED Screen: Yes,
•Power percentage display
•Wireless receiver is needed to use the wireless charging function of the device.
•Wireless Receivers are sold separately. What's in the box: 1 x Pineng PN-888 10000mAh Wireless Charge Built-In Lighting Powerbank (White) 1 x Micro Data USB Cable for Android 1 x Extra Connector for iOS 1 x User Manual
The device comes also with a power cord which you can use for other smart phones with no wireless charging capability.