Nowadays laptops provide significant impact on our daily activities especially for students (especially IT guys) and those in the working industry as we could not perform our task without them. And at times we want the best from the laptops to our advantage.
There are a bunch of laptops available in the market today to choose from but which of them would you really consider buying especially the cost of laptops that has good performance is not that cheap.
Well most of the time we select those that have names already in the market as they have been tested already and they provide good support in cases when the product is accidentally not operating according to the promise performance.
The selection of laptop to buy should also include the direction where you are going to use it for. Yes you can have both performance and good storage at the same time but these types of laptops are those that typically range about 50k Php in prices. So to maximize both cost and performance you should know the specific use of the laptop you are buying.
When looking for a laptop, there are several key factors to consider based on your specific needs and preferences. Here are some important aspects to look for:
Purpose
Determine how you plan to use the laptop. Are you using it for basic tasks like web browsing, email, and word processing, or do you need it for more demanding activities like gaming, video editing, or graphic design?
Processor
The processor, or CPU, is the brain of the computer. Look for a processor that meets your requirements for speed and performance. Popular options include Intel Core i5 or i7, or AMD Ryzen processors.
RAM
Random Access Memory (RAM) affects your laptop's multitasking capabilities. Aim for at least 8GB of RAM, though more is beneficial for resource-intensive tasks like video editing or gaming.
Storage
Consider the type and size of storage. Solid State Drives (SSDs) are faster and more reliable than traditional Hard Disk Drives (HDDs). SSDs provide faster boot times and quicker data access. If you need ample storage capacity, opt for larger storage options or consider an external hard drive.
Display
Pay attention to screen size, resolution, and panel quality. A larger display may be preferable for productivity or multimedia, while a smaller one offers portability. Look for a higher resolution (at least Full HD) for better image quality. IPS panels offer better color reproduction and wider viewing angles.
Graphics
If you plan to use your laptop for gaming, video editing, or graphic design, consider a laptop with dedicated graphics, such as an NVIDIA GeForce or AMD Radeon GPU. For basic tasks, integrated graphics are generally sufficient.
Battery Life
If you need your laptop to be portable, check the estimated battery life. Look for laptops with longer battery life if you frequently work on the go.
Connectivity
Ensure the laptop has the necessary ports and connectivity options you require, such as USB ports (USB-A and USB-C), HDMI, audio jacks, and an SD card slot.
Operating System
Choose an operating system that suits your preferences and software compatibility. The most common options are Windows, macOS (on Apple laptops), and Linux.
Price
Set a budget and balance your needs with the available options within that range. Compare prices, features, and customer reviews to find the best value for your money.
Remember, it's important to prioritize your specific requirements and find a laptop that suits your needs within your budget. Researching and reading reviews can provide valuable insights into a laptop's performance and user experience.
7 Best Choices for Budget Laptops in the Philippines
Stylish Appearance: Honor Magicbook X14 has Premium Aluminium Metal Body with 15.9MM Thickness, 4.8 MM Narrow Bezels and the weight of the laptop is only 1.38kg, which allows you to carry it easily, making it very convenient for travel and work.
Eye Comfort Mode: It has 14"FHD Full View IPS Anti-Glare Screen. And has Support of TÜV Rheinland Low Blue Light Certification, Flicker Free Certification. It Protects your eyes at all times, and your eyes will no longer be fatigued when working.
65W Type-C Fast Charging:This laptop Comes with 65W Type-C Power Adapter. It Charges up to 48% battery in Just 30 Minutes | Battery life is Up to 13.2 hours. Power Adapter supports multi-device charge & weighs only 200 gram making it easy to carry
Fast Speed Laptop: Intel Core i3-10110U Processor, 2.1 GHz base speed, 4.1 GHz Max Speed, 2 Cores, 4 Threads | Intel UHD Graphics. 8GB DDR4 RAM & 256GB PCIe SSD, making it perfect for your office and study needs.
Security and Privacy: 2-in-1 Fingerprint Power Button, saves you the trouble of entering passwords. Webcam: 720P HD Pop-up Camera with Privacy Mode, always protects your privacy.
Backlit Keyboard: Honor Magicbook X14 comes with Backlit keyboard that allows you to type comfortably even in low-light & dark conditions.
Operating System: Pre-Loaded Windows 11 Home 64-bit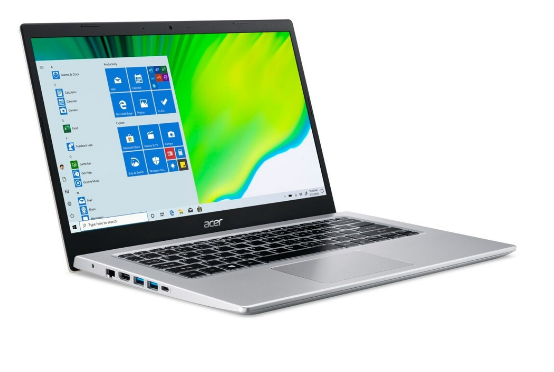 Powerful Productivity: 11th Generation Intel Core i5-1135G7 processor delivers unmatched speed and intelligence, enabling impressive creating, productivity, and gaming experiences. With Turbo Boost Technology, get up to 4.2GHz for your high-demand applications
Visibly Stunning: Experience sharp details and crisp colors on the 14″ Full HD IPS display with 81.6% screen-to-body, 16:9 aspect ratio and narrow bezels
Ergonomic Typing: Ergonomically-designed hinge lifts the keyboard for comfortable typing, improved cooling, and a better sound experience
Internal Specifications: 2*4 GB DDR4 memory – 4GB DDR4 on-board memory and 4 GB system memory, upgradable up to 20GB; Dual storage of about 1 TB HDD and SSD slot that supports up to 1 TB NVMe SSD available to store your files and media
Brand: Acer
UPC: 0195133106771
Model: Acer Aspire 5
eBay Product ID (ePID): 4046131082
Product Key Features
SSD Capacity: 256 GB
Most Suitable For: Casual Computing
GPU: Intel Iris Xe Graphics
Operating System: Windows 10 Home
Color: Gold
Processor Speed: 2.40 GHz
Connectivity: HDMI, USB-C, USB 3.1
Storage Type: SSD (Solid State Drive)
Processor: Intel Core i5 11th Gen.
Graphics Processing Type: Integrated/On-Board Graphics
Release Year: 2021
Features; Wi-Fi
Screen Size: 14 in
RAM Size: 8 GB
Series: Aspire
Type: Notebook/Laptop
Maximum Resolution: 1920 x 1080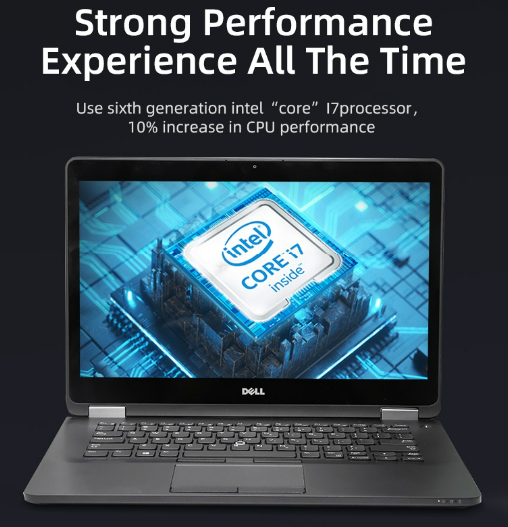 For me personally, DELL is the most sturdy laptops out there in the market. With high quality standards built into it, majority of office workers use this model currently.
At 335 x 232 x 19.4mm with a weight of 1.5kg, it falls well within Ultrabook dimensions and can be easily picked up and carried with one hand securely. Being relatively thick means that the E7470 has far more ports and connectivity options than your average Ultrabook.
There's a docking station connector underneath, then at the back, a Gigabit Ethernet port, HDMI, DisplayPort, two USB 3.0 ports and the power socket. A SmartCard reader, an SD card reader, a third USB 3.0 port and a SIM slot can be found on the sides of the laptop.
Model:DELL E7470
Display Size:14.1 inch
Condition:Brand New
AC Adapter:Yes
Storage_Type:SSD System
Memory:8GB/16GB/32GB
Laptop Type:Gaming Laptop/Business office/Online courses
Optical Disk Drive:Yes Built in
Bluetooth:Yes Can connect to WiFi Internet:Yes Hard Disk (GB):128GB/256/512 GB SSD Ports:DP USB ports Processor TypeIntel Core i7-6600U Operating System:Windows10 A multifunctional laptop suitable for office, online courses and games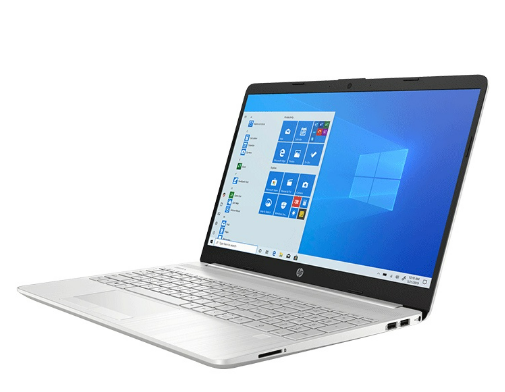 Brand: HP
Laptop Screen Size: > 15 Inches
Graphics Chipset Manufacturer: Integrated
Storage Capacity: 256GB
Storage Type" SSHD
Ports/ Interface: HDMI, USB 2.0, USB 3.0, USB 3.1
Processor Type: Intel Core i3
Operating System : Windows
Optical Disk Drive: No
Condition: New
Warranty Duration: 12 Months
Warranty Type: Supplier Warranty
Laptop Model: 15-dw3033dx
Weight: 1.75kg
Dimension (L x W x H) 14.11 x 9.53 x 0.78 in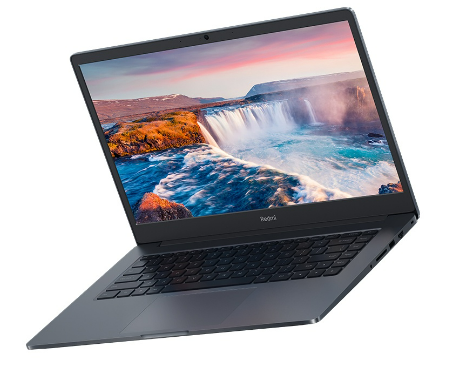 Processor: 11th Gen Intel Tiger Lake Core i3-1115G4 processor| Speed: 3.0 GHz(base) – 4.1 GHz(max) | 2 cores | 4 Threads | 6 MB Cache | Intel UHD graphics Display – 39.62 centimetres FHD resolution (1920×1080) |16:9 aspect ratio | Anti Glare Memory & Storage: 8GB DDR4 3200 MHz | 256GB SATA SSD Operating System & Software: Windows 11 Home | Microsoft Office Home and Student 2019 | DTS Audio Processing Ports: 2 SuperSpeed USB Type-A 5Gbps, 1 RJ-45 port , 1 HDMI port, 1 SD Card reader, 1 Headphone/Microphone Combo, 1 USB 2.0 Type A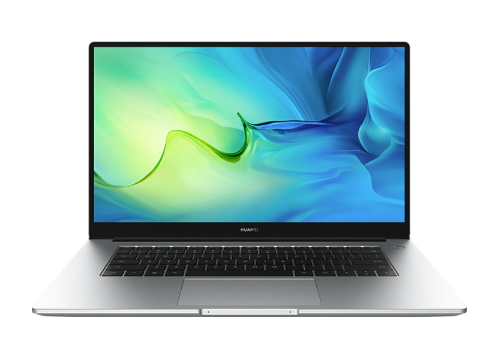 HUAWEI MateBook D 15 features FullView Screen with an 87% screen-to-body ratio and the slender 5.3 mm bezel. This laptop from HUAWEI powered by 11th Gen Intel® Core™ Processor and runs on Windows 11 OS. It provides truly pristine surround sound and all ports you need. The Fn+P hotkey toggles between Performance Mode, for powering intensive gameplay or professional-level video editing, and Standard Mode, which carefully manages power consumption and reduces fan noise. While the 56 Wh (rated capacity) battery capacity with fast charging technology and the storage of 8/16 GB of memory and 256/512 GB of SSD will power your daily use efficiently.
– The Low Blue Light certification means that when Eye Comfort mode is enabled, the test item's display effects conform to a set of low-blue-light standards approved by TÜV Rheinland (color temperature adjustment effects are not included in the test). Actual blue light filtering effects may vary according to the wavelengths present. Nonetheless, the HUAWEI MateBook D 15 is not a medical device, and Eye Comfort mode is not intended for treatment purposes.
– Huawei Share is only supported on HUAWEI MateBook laptops that run PC Manager 11.0 (or a later version) with the corresponding drivers installed, and on Huawei phones that support NFC and run EMUI 11.0 (or a later version). Two other apps can be opened in independent windows, in addition to the phone's mirrored home screen window. For more details about the Huawei Share feature and compatible devices and apps, please contact the Huawei customer service hotline.
-Data comes from Huawei labs. In the battery life test, screen brightness is set to 150 nits. Battery life may vary according to the usage habits and conditions. The original 65 W charger is used to charge the laptop for 15 minutes in sleep mode from 1% battery level. Actual usage may vary depending on the product, usage habits, and environment.
– The 65 W charger supports SuperCharge™ for the HUAWEI P40 Pro, HUAWEI P40, HUAWEI Mate Xs, HUAWEI Mate 30 Pro, and HUAWEI Mate 30, etc. Please contact Huawei Customer Service (950800) for the full and updated list of models. The 65 W charger supports a range of different output standards, including 5V/2A, 9V/2A, 12V/2A, 15V/3A, and 20V/3.25A. Actual output will vary depending on the device being charged.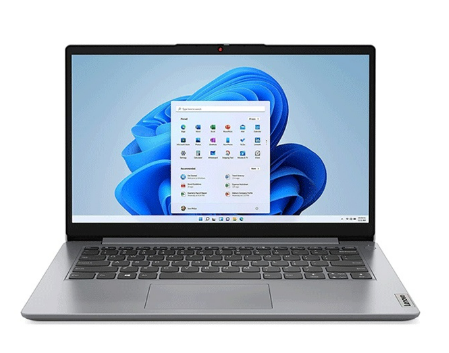 Product Identifiers
Brand Lenovo
MPN 82QC003VUS
UPC 0196800581914
SSD Capacity
128 GB
Most Suitable For Workstation, Parts, Casual Computing
GPU Intel UHD Graphics
Hard Drive Capacity 128 GB
Operating System Windows 11 Home
Color Gray
Processor Speed 1.20 GHz
Connectivity SD Card Slot, HDMI, USB-C
Storage Type SSD (Solid State Drive)
Processor Intel Core i3 12th Gen.
Graphics Processing Type Integrated/On-Board Graphics
Release Year 2022
Features
Bluetooth, Built-in Webcam, Widescreen Display, Wi-Fi, 10/100 LAN Card, Backlit Keyboard, Built-in Microphone
Screen Size 14 in RAM Size 4 GB
Series IdeaPad Type Notebook/Laptop
Maximum Resolution 1366 x 768
Conclusion
When selecting a laptop, the most important considerations revolve around your specific needs and preferences. The primary purpose of the laptop should be determined, whether it's for studying, work, or other activities. Performance is crucial, so you should pay attention to the processor, RAM, and storage options to ensure smooth multitasking and handling of demanding tasks.
Display size, resolution, and quality are important for optimal viewing experience, especially if you engage in graphic design or content creation. Portability factors such as weight, thickness, and battery life are important for those who are frequently on the move. Consider the available connectivity options and ensure they align with your needs.
The choice of operating system (Windows, macOS, Linux) should be based on your familiarity and software compatibility. If gaming or graphic-intensive applications are part of your plan, consider a laptop with a dedicated graphics card. Keyboard comfort, build quality, and overall ergonomics should be considered, especially if you'll be typing extensively. Set a budget range and look for laptops within that range that offer the necessary features. Lastly, read reviews and seek recommendations to gather insights into specific laptop models before making a final decision.