Ever wondered what are the smallest power banks you can use to charge back to life your smart phone?
We have compiled it here and reviewed most of the features available in the Philippine market.
So what advantages can we get from small or slim power banks for our smart phones?
Initially of course we can think that it will not deliver enough power to last multiple charges but if your main objective is the ease of handling and lightweight for emergency use only, this slim or small smart phone power banks are just for you.
Here are the advantages of using Slim or small power bank chargers
Portability: Slim power banks are designed to be lightweight and compact, making them highly portable. They easily fit in pockets, purses, or small compartments, allowing you to carry them wherever you go. This portability ensures that you have backup power available for your phone whenever you need it, even when you're on the move.
Convenience: Slim power banks are convenient to carry and use. Their slim form factor allows for easy handling and storage. They are often designed with user-friendly features like built-in cables or multiple charging ports, eliminating the need to carry additional cables or adapters. This convenience makes them a practical choice for charging your phone while on the go.
Style and Aesthetics: Slim power banks usually come in sleek and stylish designs. They are available in various colors, finishes, and materials, allowing you to choose one that matches your personal style. The slim profile adds to the overall aesthetics, making them visually appealing accessories.
Compatibility: Slim power banks are compatible with a wide range of smartphones, tablets, and other USB-powered devices. They typically support universal USB charging, allowing you to charge different devices using the same power bank. This versatility makes them a practical option for users with multiple devices or those who frequently switch between devices.
Sufficient Power Capacity: Despite their slim design, many slim power banks still offer a respectable power capacity. You can find slim power banks with capacities ranging from around 2000mAh to over 10,000mAh, providing enough power to charge your phone multiple times before needing to recharge the power bank itself.
Fast Charging Support: Some slim power banks come with fast charging capabilities, allowing for quicker charging of compatible devices. This feature can significantly reduce the charging time for your phone, especially if it supports fast charging technology like Qualcomm Quick Charge or USB Power Delivery.
Safety Features: Reliable slim power banks often include built-in safety features to protect your devices from overcharging, short circuits, and excessive heat. These safety mechanisms help prevent potential damage to your phone's battery and ensure safe charging.
Overall, slim power banks offer the convenience of portable charging in a compact and stylish form factor. They provide backup power for your phone when you're on the go, ensuring that you stay connected and powered up throughout the day.
6 Slim Power Bank chargers for your Smart Phones in the Philippines
The first thing that comes to mind when you see the power bank charger fitting in the palm of your hand is the easiness of carrying around this around and packs a power at once charge ( 50,000 mAh)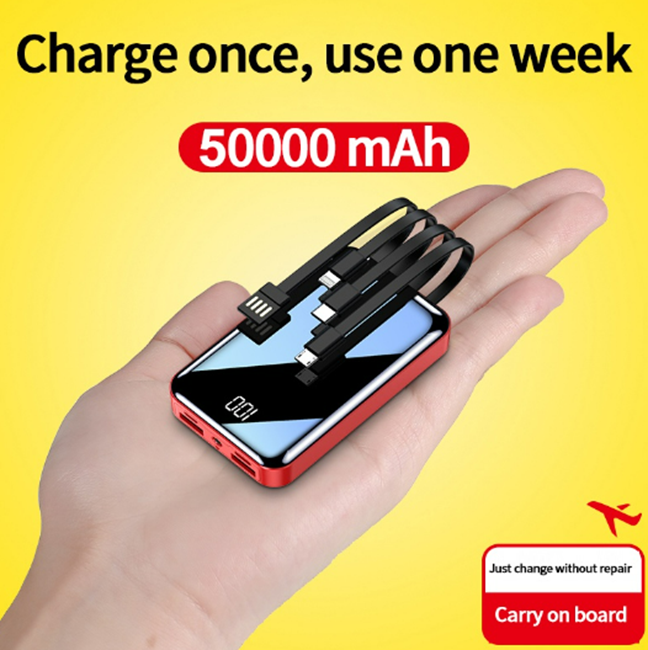 Actual image after receiving the power bank charger showcases the multiple USB ports charge you can use. It can be utilize both for android and apple phone users.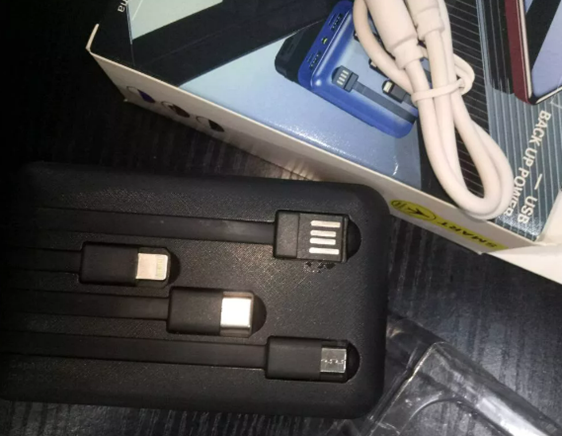 The charging line provided by the charging bank is really convenient and can be used to charge the phone at any time. The charging is stable, responsive, and the workmanship and material are also very good. It is very easy to use and can last for a long time.
Product Description:
1. Removable four-wire, lightweight and convenient
Multi-functional mobile power supply with portable cable
2. There is no need to take a line when going out, and it has four lines
3. Charge four sets at the same time without queuing
With three output lines+USB output ports, with large capacity battery, charging does not queue up
4. Intelligent fast charging, quick charging
5. With self-charging cable, there is no trouble in storing electricity
6. New four-wire, light and convenient
Fast charging without damaging the machine
This slim power bank is just a third of the smartphone size. With small size it will fit on all pockets of your purse or bag.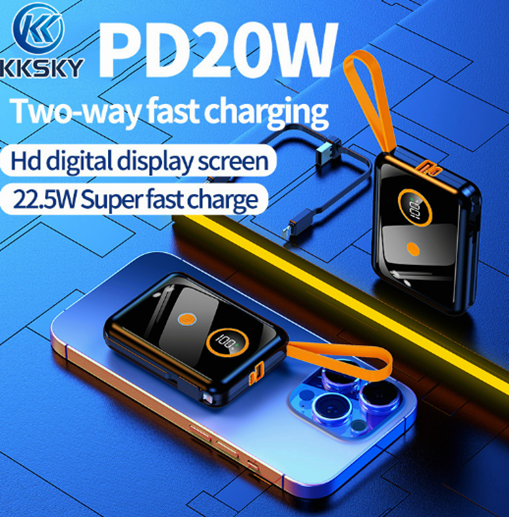 Name: kksky Powerbank 10,000mAh LED Display
Model: F2 MAX
Battery Capacity: 10,000mAh
Portable and Lightweight , good travel helper
2.1A Fast Charging,Can quickly meet your charging needs
Metal aluminum alloy shell, stylish and sturdy
LED smart digital display, The remaining battery can be seen at a glance, helping you well control the use of power at any time
Li-polymer Battery:High-quality Batteries Safe And Durable
Type-C Input: 20W(MAX.)
Output:22.5W(MAX.)
USB1 Output: DC 5V/2.1A
Country:Made In China
Cable: No charging cable for powerbank, the powerbank has one iphone cable and one type c cable for phone charging
KKSKY Power Banks Original 10000mAh Portable Fast Charging PowerBank Original Brand PowerBank External Charger Slim and Light Weight Type-C for Realme Xiaomi Oppo Vivo y11 redmi note 9s Samsung for iPhone 14 13 12 pro max Cellphone
This is another power bank that falls to the category of slim or smallest power banks for smart phones.
It offers 100% Brand New with High Quality Material and fast charging gives you the fastest charging speed.
It has a High Capacity power that can make you enjoy your device with a long time usage. This is suitable for tablets and mobile phones, regardless of Android and IOS systems. This Power bank has a built in three cable, one is for type C, one is for micro USB, one is for apple interface. it can charger three device at the same time,
It also has Super LED lights, no need to worry about the night as you have an extra flash light in your hand. And the data cable sold is a four-in-one data cable, which is very practical.
Specification:
⚡Capacity: 6000mah
⚡USB Input:DC 5V 3.1A
⚡USB Output:DC 5V 2,4A
⚡Micro USB input
⚡DUAL LED LIGHT
⚡DUAL OUTPUT
⚡Dual INPUT
✅Mini design, large capacity
✅Long lasting battery life
Actual product received.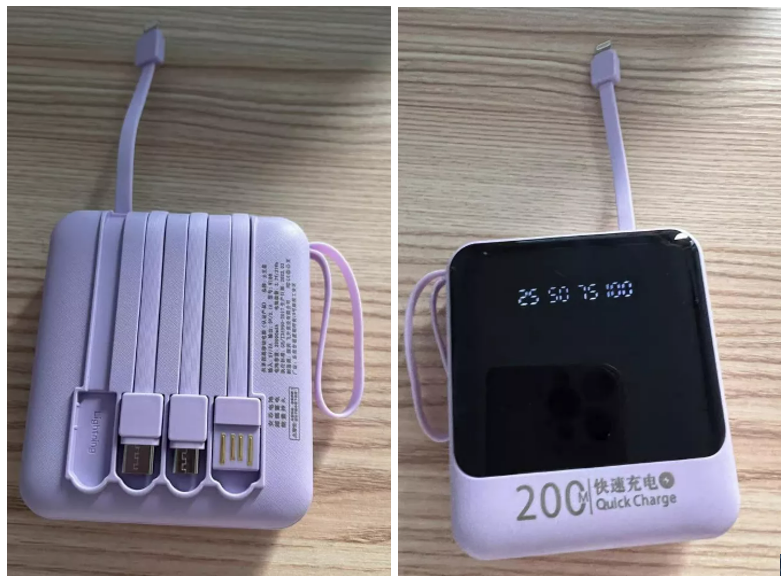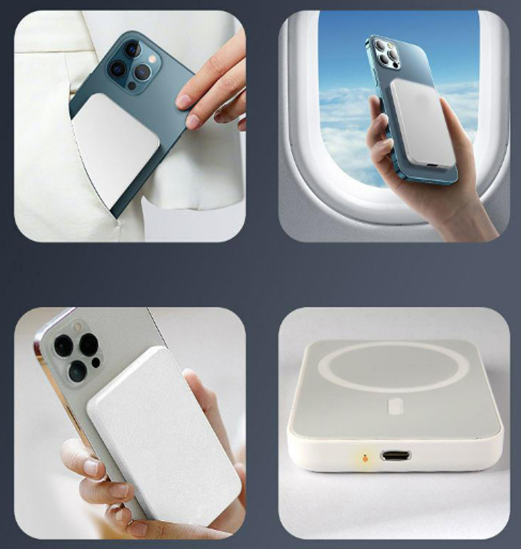 If your smart phone has a wireless charging capability, this small or slim power bank will do the job for you. It has a built in magnetic suction so it can go with your phone at the same time.
This power bank charger has fast charging technology, which supports all mobile phones with built-in magnetic suction function. As long as your mobile phone can be charged wirelessly, it can provide the fastest charging speed.With the magnetic suction function, you can charge your mobile phone at any time when you are playing games or making calls.
1.High Capacity: Contains5000- mAh of power. Enough to provide 1.1 times charge for Phone ,1.2 times for Phone .The capacity is enough for use when going out.
2.Super Safety:Intelliegent controlling IC can effectly prevent-your bank overcharge,overvoltage,overcurrent and short circuit.
3.Ultra compact: small and light, which can be put into your wallet, pocket,etc. It requires less space and can be carried with you.
Package Contents:
1 * Wireless Magnetic Slim Power Bank
This is another wireless charger power bank with item 4 that we just reviewed.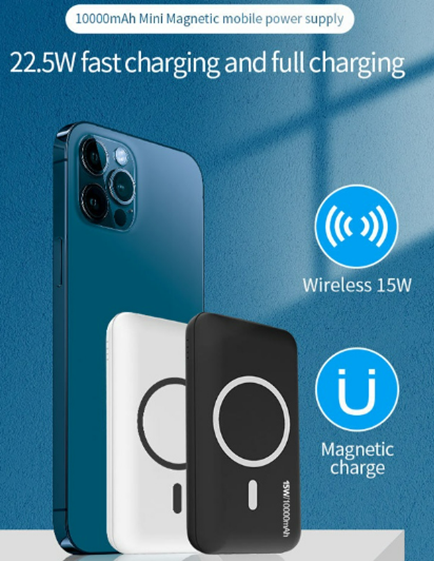 Product nam:10000mAh wireless power bank
Output:usb-A/USB-C
Charging time:4-5hours
Warranty:12 months
Battery:Li-Polymer Battery Power Bank
Output Interface:Apple Interface/USB, Double Usb, Type C, USB/MICRO USB, Wireless
Input Interface:Micro USB, TYPE-C, Wireless, Micro USB/type C
Function:Quick Charge Support, LED Display, Wireless Charging, wireless/wide chargerType:
Ultra Slim, Fast Charging, High Capacity, Wireless Charger, PORTABLE
Battery Type:Li-Polymer Battery
Wireless output :15W Max. (15W/10W/7.5W/5W)
Color: Black/White
Wireless transfer distance : 0-8MM
Feature: lcd display, PD,QC3.0 ,15W fast wireless charging ,
total power 22.5W
Qi wireless quick charging and Lightning USB wireless power bank 2 in 1 .
This power bank charger has a built-in 10000mAh polymer wireless fast charging battery, provides your devices enough power.
Other features includes:
– No longer need any cord to plug in or out, just place devices on the charging plate and you are free to enjoy your wireless and limitless charging experience
– Enjoy the wireless charging at a distance up to 3mm without removing the cellphone case
– LCD digital dispaly , intelligently display the battery capacity
– Protection functions: overvoltage and short circuit protection, never overcharges your battery or wastes energy
– Intelligent security protection, fast and safe charging,wireless fast charging
If you are into style, this cute design of a slim or mini powerbank is just the right thing for you.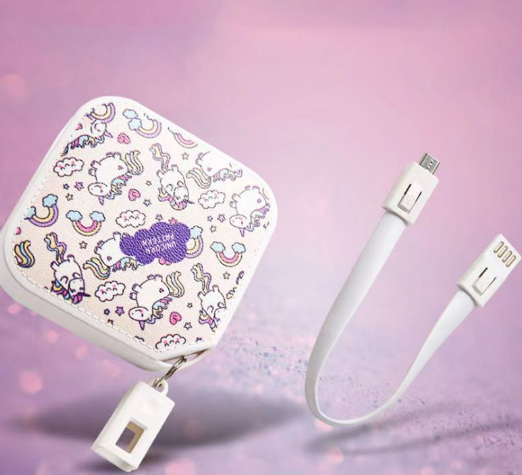 ✔ Fast charging
✔ Small body large capacity
✔ Suitable for variety of electronic devices
✔ e – reliable ✔ A great travel partner
✔ Suitable for smartphones and tablet
✔Size: 82mm x 82mm x 23mm
✔Output: 5V-2A
✔Input: 5V-2A
✔Capacity: 20000mAh
✔Battery: Liquid Lithium Ion1197- s
Item No.:JQ-A5 Cell
Type:Polymer Lithium-Ion Battery Core
Applicable Type:Universal
Battery Type:Soft Bag Shell
Material:Plastic Additional
Features:Ultra Thin Color:White,Pink, Power Capacity:20000Ma
Some reviews for this power bank charger:


Conclusion:
There are many slim or small power bank chargers that you can chose from in the market. Remember that the number of charging times you can use for this are lesser as compared to the normal power bank chargers. These products were specifically design for lightweight and ease of carrying so they are really small size.
Other Gadget Reviews You Might Like:
Best Power Banks for Philippine Laptops – 7 Best Choices and Why you need to have one?
Best Solar Power Banks and Charger – What are the Benefits?
Best Wireless Power Banks for your Smartphone in Philippines