Wireless earbuds offer several advantages that contribute to their increasing popularity in the audio accessory market. First and foremost, the absence of cumbersome cables provides a newfound freedom of movement, allowing users to enjoy music, take calls, or engage in physical activities without being tethered to their devices. The compact and portable design of wireless earbuds enhances convenience, fitting seamlessly into pockets or small carrying cases.
Wireless earbuds, also known as Bluetooth earbuds, have become increasingly popular due to their convenience and portability. Here are some characteristics of wireless earbuds:
Wireless Connectivity
As the name suggests, wireless earbuds connect to devices via Bluetooth technology, eliminating the need for physical cables. This provides users with greater freedom of movement.
Compact and Portable
Wireless earbuds are typically small, lightweight, and portable, making them easy to carry around. They often come with a charging case that also serves as a protective storage container.
Bluetooth Compatibility
Most wireless earbuds are compatible with a wide range of devices, such as smartphones, tablets, laptops, and other Bluetooth-enabled devices.
Touch Controls or Buttons
Many wireless earbuds feature touch controls or physical buttons for functions like play/pause, volume control, answering calls, and activating voice assistants. This allows for convenient and easy operation.
Noise Isolation and Cancelation
Some wireless earbuds come with features like passive noise isolation (using the earbud design to block out ambient noise) or active noise cancelation, which uses technology to actively reduce external sounds.
Microphone for Calls
Wireless earbuds often include built-in microphones, allowing users to make and receive calls without the need to take the earbuds off. The quality of the microphone can vary among different models.
Battery Life
Battery life is an essential characteristic. Most wireless earbuds come with a charging case that provides additional power. The overall battery life varies from model to model.
Comfortable Fit
Many wireless earbuds come with different ear tip sizes and designs to ensure a comfortable and secure fit for various users. This is crucial for extended use and physical activities.
Water and Sweat Resistance
Some wireless earbuds are designed to be water-resistant or sweatproof, making them suitable for workouts or outdoor activities.
Smart Features
Certain wireless earbuds integrate with voice assistants (such as Siri or Google Assistant) and offer additional smart features, like automatically pausing music when the earbuds are taken out of the ears.
Customizable Settings
Some models allow users to customize settings and sound profiles through dedicated apps, providing a more personalized audio experience.
Stereo Sound and Audio Quality
Wireless earbuds aim to deliver high-quality stereo sound, and advancements in audio technology have improved the overall audio experience.
Integration with Charging Standards
Some wireless earbuds support standard wireless charging protocols, allowing users to charge them using compatible wireless charging pads.
It's important to note that the features and characteristics can vary between different brands and models of wireless earbuds. Users should consider their specific needs and preferences when choosing the right pair for them.
5 Best Wireless Earbuds for Android Smart Phone in the Philippines (Most Popular)
Currently one of the best seller in Shopee, the Marshall Minor III Black wireless earphone currently more than 10k products have been sold per month
Customized dynamic unit: Equipped with 12mm customized tuning dynamic unit, which brings strong bass, smooth midrange and crisp treble.
Super stability: With the latest Bluetooth v5.2 technology, ensure the connection stability between the headset and the audio source device.
Maximum 25h endurance: provide a maximum of 25h wireless endurance to meet daily use.
Quick pairing, playing and touch operation: Bluetooth 5.2 technology is used to quickly pair devices and automatically connect them when the next cover is opened. The headset adopts symmetrical touch operation, supporting multimedia and call control.
5.Support fast charging: equipped with Type-C interface, 15 minute charging and 1.5 hour battery life.
Customer review:

Product parameters:
AUDIO SPECIFICATION
DRIVER SENSITIVITY:93 dB SPL (179 mV @ 1 kHz)
DRIVER TYPE:Dynamic
DRIVER IMPEDANCE:32 Ω
FREQUENCY RANGE:20-20,000 Hz
DRIVERS:12 mm
PLAY TIME:5 hours in earbuds,25 total hours in case
WIRELESS CHARGING:Yes
ECO CHARGING:Yes
QUICK CHARGING:15 minutes gives 1.5 hour of playtime
CHARGING TIME:1.5 hours to recharge earbuds/2 hours to recharge case
CONTROLS AND CONNECTIVITY
MICROPHONE & REMOTE:Yes
CONNECTIVITY:Bluetooth
WIRED CONNECTIVITY:No
VOICE COMMAND:No
CUSTOMISE SOUND:No
ACTIVE NOISE CANCELLATION:No
MIRRORED CONTROLS:Yes
BLUETOOTH RANGE:10 m/30 ft
CONTROLS:Touch response
TOUCH RESPONSE FUNCTIONS:Control your music/Receive, reject and end calls
DUAL MASTER:Yes
CODECS:SBC + aptX
WIRELESS CONNECTIVITY:Bluetooth 5.2
INCLUDED IN THE BOX
Minor III true wireless headphones
Charging case
USB-C charging cable
User manual, and legal and safety information
PHYSICAL UNIT
COLLAPSIBLE:No
HEADPHONE TYPE:In-ear
WEIGHT:4.0 g/0.14 oz
WATER RESISTANCE:IPX4 in earbuds
COLORWAYS:Black
One of the most lightweight wire less blue tooth ear buds you can get in the market currently. More than 10k units are being sold monthly with this product.
With all that said, these earbuds are an easy five-star for me as the functionality they bring overshadows the shortcomings they have and still provide an acceptable audio experience with an elite functional experience.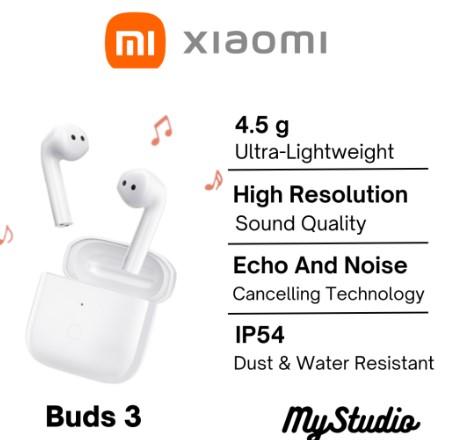 Product Description
New ID design:
Only 4.5g half in-ear design gives you more comfort even for a long time using. Stylish and minimal charging case designed to fit perfectly in the palm of your hand.
Qualcomm QCC3040 chip:
Support new-gen of Bluetooth 5.2, lower power consumption, faster transmission, and more stable connection.
Call without noise:
Dual-mic with Qualcomm cVc echo cancelling and noise suppression technology delivers crystal clear voice quality no matter where you are.
Up to 20 hours battery life:
A single charge brings you up to 5 hours of listening time, and up to 20 hours when coupled with the charging case.
12mm dynamic driver :
12mm large dynamic driver, and being tuned by Xiaomi's internal sound lab for more details and excellent hearing experience.
10 minutes charge for 90 minutes usage:
Redmi Buds 3 supports fast charging, only 10 minutes charge you can use 90 minutes. Never be afraid of battery off.
In-ear detection:
The music stops when you take out the earphone, and the music resumes when you put on the earphones.
IP54 waterproof:
With IP54 dust and water resistance, The Redmi Buds 3 can accompany you through heavy wind, rain, and workouts alike.
MIUI pop-up window:
A window pops up when the case is opened, and the smart connection becomes visible. After connecting, you can view the battery life of earphones and the case.
Customer Review:

It has a wide variety features as it is a most popular in Shopee for those who are engage with gaming activities. This product sells more than 8k units per month.
Light it up with the Razer Hammerhead True Wireless X—high-performance earbuds engineered to illuminate. Packing a 60ms low latency Gaming Mode along with custom-tuned 13mm drivers.
60MS LOW LATENCY GAMING MODE – Activate Gaming Mode to fire up the Razer Hammerhead True Wireless X's leading performance while gaming on Bluetooth devices for a more seamless and lag-free experience.
MOBILE APP CUSTOMIZATION – Maximize your earbuds with the Razer Audio app. Remap touch gestures, customize the EQ, and get continuous improvements with over-the-air firmware updates.
CUSTOM-TUNED 13MM DRIVERS – Armed with dynamic drivers optimized for an immersive audio experience, the Razer Hammerhead True Wireless X elevates every listening moment with clear highs and mids backed by deep, punchy bass.
Customer review:

Technical Specs:
At a Glance
60ms low latency Gaming Mode
Mobile app customization
Custom-tuned 13mm drivers
Bluetooth 5.2 with Auto-Pairing
Google Fast Pair
Touch-enabled controls
Headphone frequency response
20 Hz – 20 kHz
Headphone impedance
32 Ω
Headphone sensitivity
91 db @ 1 mW / 1 kHz
Headphone input power
8 mW (max input)
Headphone drivers
13 mm
Headphone Connector
Bluetooth 5.2
Battery Life
Up to 24 Hours (6 + 18) with Lighting On
Up to 28 Hours (7+21) with Lighting Off
Its another Xiaomi product which is very popularly bought in Shopee. Monthly sales tops 7k units per month.
12mm Dynamic Driver – Reliable, Incredible Sound Quality: The 12mm dynamic driver brings incredible performance. Low distortion, richer bass and clearer high tones, leading to a THD≤0.1% rating, as verified by the Xiaomi Acoustics Laboratory.
Bluetooth 5.3 – Faster, Stabler: New developments in the world of Bluetooth 5.3 mean a better, faster experience. Enjoy stable audio with a lower power consumption for extended listening. Supports Google Fast Pair – Simply open the cover, and you're paired.
Low latency mode – Always in sync: Backed by Bluetooth 5.3, turn on low-latency mode when playing mobile games for a next-level gaming experience. Make rapid decisions in real-time with audio that is faster than other standard headphones, for those game-winning plays.
AI Noise Cancellation for Calls – Every call, every word – crystal clear: The AI voice algorithm accurately differentiates between human and ambient noise, so even in the noisiest environments, accurately picks up audio and effectively reduces ambient noise. Rest assured, every word you say will be loud and clear.
Lightweight and Portable – Secure and Comfortable: With a unique, semi in-ear design, the buds are comfortable to wear, weighing in at a total weight of just 35g and also a single earbuds weight less than 3.92g
Specifications
● Product Name:Xiaomi Redmi Buds 4 Lite
● Product colors White/Black
Size and Weight
● Single earbuds weight: 3.92g
● Single earbuds size: 32.24×18.22×19.63mm
● Charging case weight: Around 26.7g
● Charging case size: 55.6×47.3×22.2m
● Total weight: 35g
Charging
● Battery: 35+320mAh
● Earbuds: 90min
● Charging case: 120min
Charging port
Type-C
● Earbud input parameters 5V ⎓ 50mA
● Charging case input parameters 5V
Customer Review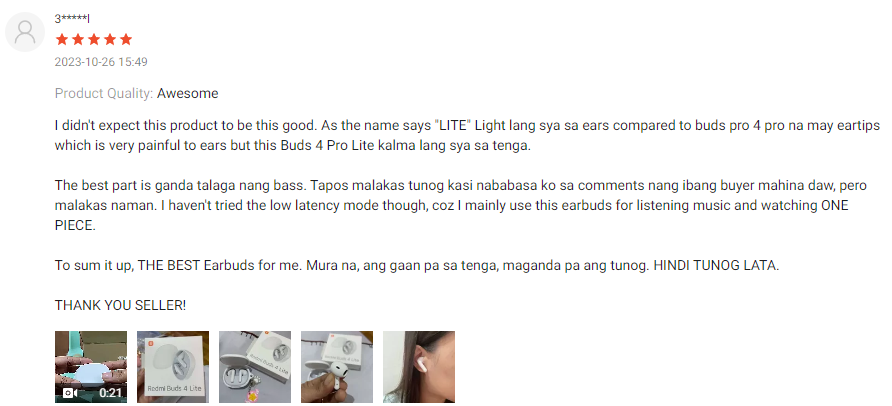 This wireless earbuds have monthly sales of more than 5k units per month. Its features include better sound quality, 360 Audio, comfort fit and colors that can set the tone.
Sound quality – Every note sounds like the real thing because clear audio starts at the source with your favorite Samsung Galaxy device. The ultimate wireless listening experience with 24bit Hi-Fi sound.
360 Audio – With Intelligent 360 Audio, the sound feels more realistic. The 360 Audio algorithms with Direct multichannel and Enhanced Dolby Head Tracking make every movement stay in sync — creating an immersive experience.
Comfort fit – We redesigned the earbuds to be 15% smaller than Buds Pro to fit snugly in your ear.
Colors that set the tone – Both the earbuds and cradle are available in a range of premium colors, Graphite, White and Bora Purple.
With 3 high SNR (Signal-to-Noise Ratio) microphones, the Galaxy Buds2 Pro tracks and eliminates more outside sound — even soft sounds like wind.
Customer review:

Product Features:
Connection Type: Wireless
Earphone, Headphone, & Headset Type " In Ear
Gaming Focused: Yes
Audio Compatibility: Camera, Mobile, Motor, Others, PC & Laptop
Maximum Frequency Response: 20000Hz
Minimum Frequency Response: 45Hz
Sensitivity Rating: 86dB
Headphone Connection Type: Bluetooth
Warranty Duration: 5 Years
Conclusion
Bluetooth connectivity ensures compatibility with a variety of devices, from smartphones to laptops, offering a versatile solution for users on the go. The touch controls or buttons integrated into many wireless earbuds simplify the user experience, allowing for easy control of playback, volume adjustment, and calls.
Additionally, the advancements in audio technology have led to impressive sound quality, and features like noise isolation or cancellation contribute to an immersive listening experience.
The integration of microphones facilitates hands-free communication, enhancing their functionality. With customizable settings, water resistance, and extended battery life often included, wireless earbuds have become a stylish and practical choice for those seeking a seamless audio experience in their daily lives.