Aside from the smallest power banks we made a review a few weeks back, we have here another batch list of power banks small enough that you can put them in a key chain.
This power banks can add a one time charging to our smart phones in cases where we don't have access to corded outlets or other portable power banks.
Keychain power banks are portable and compact devices that can provide emergency charging for your electronic devices such as smartphones, tablets, or other small gadgets. They are designed to be attached to your keychain, making them convenient to carry with you wherever you go. When your device's battery is running low, you can connect it to the keychain power bank for a quick boost of power.
Keychain power banks typically have a small built-in battery capacity, usually ranging from 500mAh to 1500mAh, which is enough to give your device an additional charge or extend its battery life. They often come with a USB or micro USB port for charging the power bank itself and a USB port or cable for connecting to your device.
Here are a few key features and considerations when choosing a keychain power bank:
Battery Capacity
Consider the capacity of the power bank based on your needs. Higher capacity power banks will provide more charges but will also be larger and heavier.
Size and Portability
Look for a compact and lightweight design that easily attaches to your keychain without adding too much bulk.
Output Power
Check the power bank's output rating to ensure it can deliver the required charging speed for your device.
Charging Options
Some keychain power banks come with built-in cables or multiple charging ports, allowing you to charge different devices simultaneously.
Charging Time
Consider the charging time required for the power bank itself. Look for models that can be quickly recharged to ensure you have a reliable power source when needed.
Quality and Safety
Opt for power banks from reputable brands with built-in safety features such as overcharge protection, short circuit protection, and temperature control.
It's worth noting that keychain power banks have limited capacity compared to larger portable chargers, so they are best suited for emergency or backup use when you need a quick power boost while on the go.
Here are 5 Choices you can select from for the key chain portable power banks for smart phones in Philippines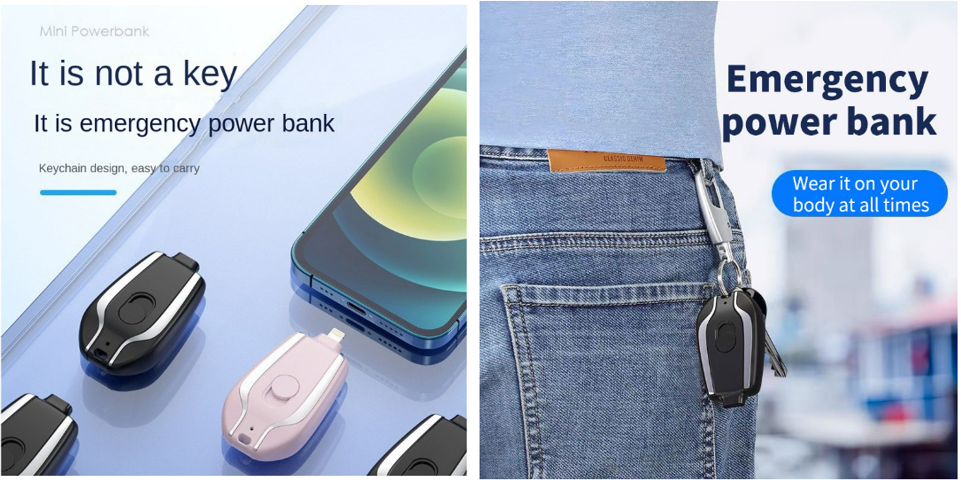 As you can see from the photos above this portable power bank can be use as a key chain so no need for you to worry where you are keeping it. Its small them same length as any key or car keys.
Additional Features:Ultra-Thin
Brand:Other
Classification:Portable Compact Power Bank
Applicable Type:Emergency Start Power Supply/Energy Storage Power Supply
Item No.:D18-2
Battery Type:Soft Bag
Cell Type:Polymer Lithium Ion Batteries
Shell Material:Plastic
Size:70*40*18mm
Conversion Rate:80%
Patent Source Or Not:No
Charging Power:5W
Style:Cartoon
Product Type:Compact Mini Light Portable Power Bank
This product is not limited to mobile phone model, brand, size. Suitable for charging small USB fans, Bluetooth headsets, VR glasses and other electronic products.
1. The lipstick is sized to fit in a pocket, clutch or purse tote as a mini emergency portable battery charger.
2. 3300mAh is enough to charge iPhone 7 nearly 1 times (6 hours talk time), or iPhone 7 plus about 0.8 times.
3. Built-in data cable connector, plug and charge, no need to worry about charging data cable.
4. Pass-Through Technology: Charge your iPhone at the same time as the power bank. No need to carry extra cables, just plug in your phone to charge.
6. Large capacity: 3300mAh portable charging iPhone 7 1.2 times (only 58g weight, like an egg).
7. Support pass-through technology: while charging the mobile power supply, charging the mobile phone at the same time.
Going out for a trip in the beach or in the mountain for hiking and you worry once your charger gets discharge and there is no power supply you can look for? This mini power bank can do that as it can be solar charged.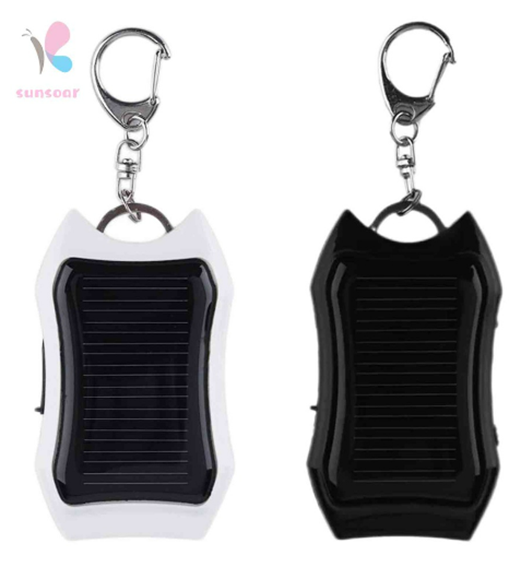 Specification:
Name: Keychain Power Bank
Material: ABS
Colors: White, Black
Product size: 70mm*40mm*15mm/2.75in*1.57in*0.59in
Net weight: 30g
Gross weight: 30g
Lights: 3 LED
Input: 5.0v±0.02
Output voltage: 5.0v±0.02
Maximum output current: DC500-800mA/H
Solar panel power: 5V 40MA
Built-in lithium battery: 950mAH polymer, actual capacity, for Gree brand battery
Just in case you forgot to bring any portable mini charger, you can rely on this phone cord to transfer your power from one phone to another.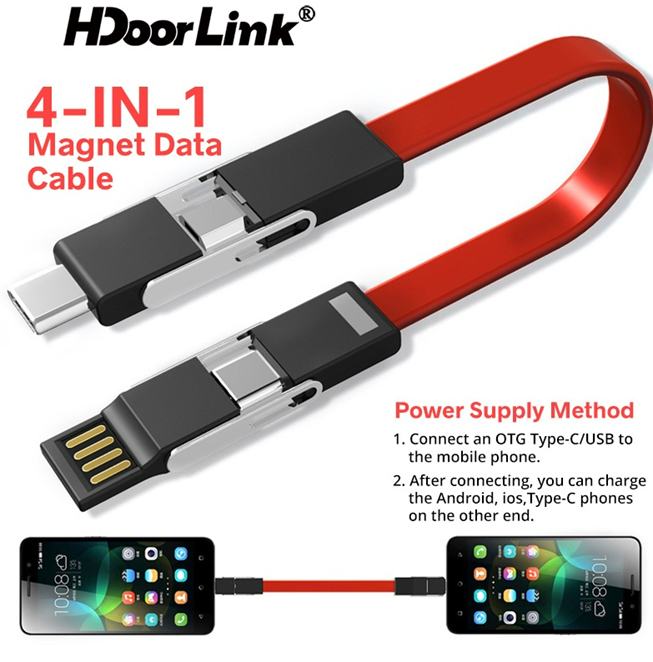 Car Charger: Can be used for car chargers with USB ports;
Charger: Can be used to charge the data port on the phone;
PC charging: can be used for charging and data transmission after connecting PC;
Keychain: Can be used to hang up the car key and home key.
Advantages: Unique design and structure, innovative design concept, the first combination of domestic data cable and keychain.
Compatible Devices 1: Type C Cable For Galaxy Note9 Note8 S9 S8 Plus For Huawei P9 Xiaomi 5S
Compatible Devices 2: Micro USB Cable For Samsung S7 S6 For Xiaomi 4X Note 4 HTC LG Oneplus
Compatible Devices 3: For iPhone XS MAX XR 8 X 7 For iPhone 6 6s/5s 5 Lightning to USB Cable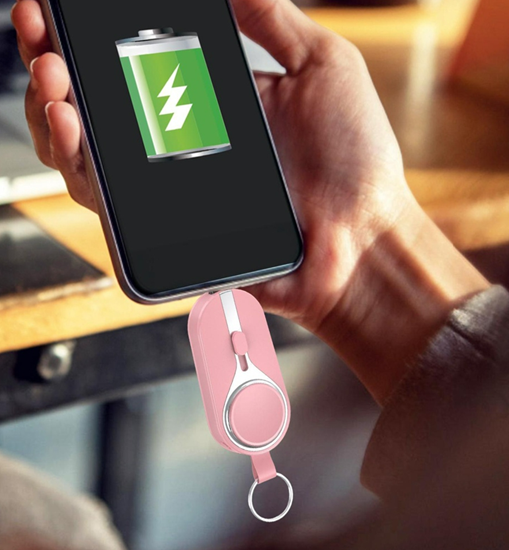 1. Phone Charger Keychain is widely compatible and supports a variety of equipment with a USB interface, such as mobile phones and other devices.
2. Easy to carry, the practical Portable Charger Pod is small, ultra-compact, and portable and can be carried around and attached right onto your keychain, keyring, backpack, purse, and briefcase.
3. With High-speed charging and multi-protection support to charge your phone at high speed safely, Mini Charger Keychain can avoid over-charge, over-discharge, short-circuit, and overload.
4. Keychain Phone Chargers can be fully charged at least once, suitable as a backup power source for daily use.
Specifications:
Name: Mini Keychain Weight: 80g
Package size: 10x5x2cm/3.94×1.97×0.79in
Product size: 8.5×4.2×1.6cm/3.35×1.65×0.63in
Capacity: 2000mAh
TYPE-C input: 5V/1A
Output: 5V/1A
Watch output: 3W
This mini key chain power bank looks like a car key so its convenient to bring around.
5V 1300mah Backup Power Bank Waterproof Mini Keychain Charger Ultra-Light Retractable Plug with Indicator Light Outdoor Accessories
Feature:
1. Portable Charger: Ideal for boosting power and extending life for your tablet, cell phone, wireless speaker, e-reader or other standard USB devices, provides 1300mAh internal battery and shared output power for more extra battery.
2. Waterproof Rubber Surface: Designed to withstand the most extreme outdoor conditions, waterproof, dropproof and dustproof, suitable for camping, hiking or mountaineering or just going out. Compact design, can be easily taken to different places for use.
3. Built-in Carabiner: The ability to attach the included carabiner clip to a backpack, belt, harness, or any safety loop keeps your power within arm's reach. It can be carried in a pocket, purse or handbag.
4. Stay Charged: A great adventure companion that fits easily in a pouch, purse or backpack so convenient power is always within reach with pass-through charging.
5. Small & Compact Design: Suitable for iPad / for Android, for Samsung Galaxy), wireless speakers, wireless headphones/earbuds, USB camping and outdoor accessories.
Specification:
Keychain Power Bank: Portable Chargers
Battery Pack: Pocket Mobile Power
Type: Portable Power Bank
Material: ABS+circuit board
Color: Black/Pink
Battery capacity: 1300mah
Output interface: Type-C/8 Pin
Output power: 5V/1A
Size: About 70x40MM/2.75×1.57inch
Package size: About 110x78x36mm/4.33×3.07×1.41inch
Net weight: 40 g
Gross weight: 65 g
Style: Black Type-C; Pink Type-C; Black 8 Pin; Pink 8 Pin (optional)
Final Thoughts:
The list of choices here were selected based on the key chain size catergory. Since they only provide temporary source of power during emergency cases, always take a plan on what to bring during your trips so as to have the power needed especially if you dont have other sources of charger during that time.
Other Articles about Power banks you might like
Best (Budget) Laptops in the Philippines – 7 Best Choices you can select from
Best Budget Wireless Earbuds in Philippines – 7 Choices of Earphones
How to Add Wireless Charging to Any Smart Phone – Best (Cheapest) Choices for Wireless Adapters