Wireless earbuds, also known as wireless earphones or true wireless earbuds, are small audio devices that are designed to fit inside the ear and provide a wireless audio listening experience. Unlike traditional wired earphones or headphones, wireless earbuds do not have any cords or cables connecting them to the audio source or device.
Wireless earbuds utilize Bluetooth technology to connect to smartphones, tablets, laptops, or other Bluetooth-enabled devices. They come as a pair of individual earbuds, with each earbud housing its own speaker, battery, and wireless technology. The two earbuds communicate wirelessly with each other and the audio source, providing a stereo sound experience.
Here are some key features and characteristics of wireless earbuds:
1. Bluetooth Connectivity
Wireless earbuds connect to audio devices via Bluetooth technology, allowing for wireless audio transmission without the need for physical cables.
2. Compact and Lightweight
Wireless earbuds are designed to be small, lightweight, and portable. They are usually much smaller than traditional headphones and can be easily carried in a pocket or a small charging case.
3. True Wireless
Unlike wireless headphones that still have a connecting wire between the earcups, true wireless earbuds have no physical wires connecting the earbuds, providing a truly wireless experience.
4. Built-in Battery
Each earbud has its own built-in battery, which provides power for both the audio playback and the wireless connection. The battery life can vary depending on the model but generally ranges from a few hours to several hours of continuous use.
5. Charging Case
Most wireless earbuds come with a charging case. The case serves as a storage and charging solution for the earbuds, allowing users to recharge them on the go. The charging case itself is usually rechargeable via USB or wireless charging.
6. Controls and Features
Wireless earbuds often come with built-in controls, touch panels, or buttons on the earbuds themselves. These controls allow users to adjust volume, play/pause audio, skip tracks, answer calls, activate voice assistants, and perform other functions without needing to access the connected device.
Wireless earbuds have gained popularity due to their convenience, portability, and freedom from tangled wires. They are commonly used for activities such as listening to music, making phone calls, watching videos, and even as fitness accessories for workouts.
Here are the the 7 most popular Wireless Earbuds in Philippines available today
The only known manufacturer of wireless earbuds that can allow multiple simultaneous Bluetooth connections is Jabra. Unlike most wireless earbuds, you can couple the buds to a smartphone while still using a laptop or tablet. Drop-outs and interruptions will never happen on Jabra's 4th Gen TWS stability.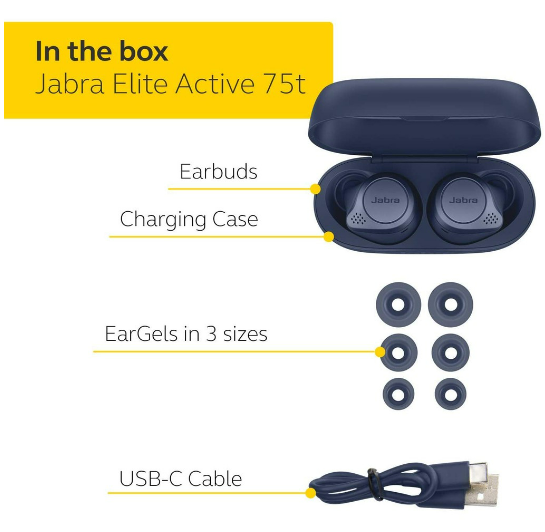 Features:
• Fully wireless high-performance headset
• Adjustable and stable ear hooks, light, comfortable and stable
• The earbuds are independently connected via Bluetooth, which can extend the range and reduce dropped calls
• Enhanced call performance and call processing capabilities of any headset High-performance fitness headphones Headphones are designed to revolutionize the way you exercise.
The zero line prevents you from moving forward, and you will always have music to inspire you. Sounds very professional.
It can provide powerful, balanced sound and a high-quality listening experience.
Product Featues
– Secure active fit, compact and comfortable, tested for a secure fit with extra grip coating
– Superior sound with unique 4-microphone technology
– Waterproof durability, IP57 rated, with a 2-year warranty against sweat and dust**
– Active Noise Cancellation, that filters out background noise – Pair with the Jabra Sound+ app for HearThrough mode and personalize your music with a customizable equalizer
– Up to 5.5 hours of battery and up to 24 hours with the charging case (with ANC on) Wireless charging enabled for selective SKU's
– Voice assistant enabled, works with Amazon Alexa, Siri®, & Google Assistant™
• High-performance fitness headphones
• Sounds professional
• Both parties play, only once at a time
• Effective wireless function, high-performance Bluetooth
The WF-1000XM4 wireless earbuds, without a doubt, are the best ones available because the highs and mids hone, the mids are tight, and the bass notes are detailed. The ear tips are also very snugly fitting and have a unique shape that aids noise isolation.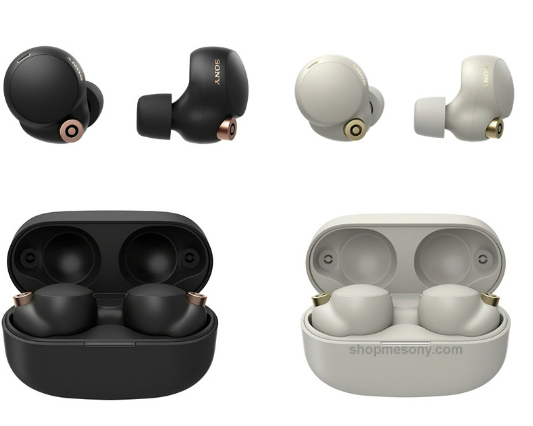 Okay so this Sony Wireless earbuds is not your cheapest price but hey this is from Sony, a quality brand that makes quality products. (Costs around ~9k pesos)
Product Features:
Industry-leading noise canceling with new Integrated Processor V1 Exceptional sound quality with new Integrated Processor V1 and supporting LDAC codec.
Crystal-clear call quality, beamforming microphone and a bone-conduction sensor provide clear voice detection even in noisy environments
Speak-to-chat technology automatically reduces volume during conversations 8 hours long battery with Noise Canceling IPX42 Water resistance
Alexa enabled for voice access to music, information, and more.
Activate with a simple touch Take the next step in truly wireless noise canceling performance and exceptional sound quality.
The new Integrated Processor V1 delivers unmatched performance while using even less power.
Adding in drastically enhanced call quality, IPX4 water resistance, and up to 24 hours of battery life with wireless charging, the WF-1000XM4 Truly Wireless Earbuds are unlike any other before them.
I've seen this product glow in the dark with its cool headset design. Creates sorround sound effect as well based on reviewers of this product.
The Razer Hammerhead True Wireless X Earbuds provide an improved in-ear noise isolation design with multiple ear tip sizes for personalized comfort. As the more affordable alternative to the Hammerhead Pro, the True Wireless X has fewer features and less expensive components.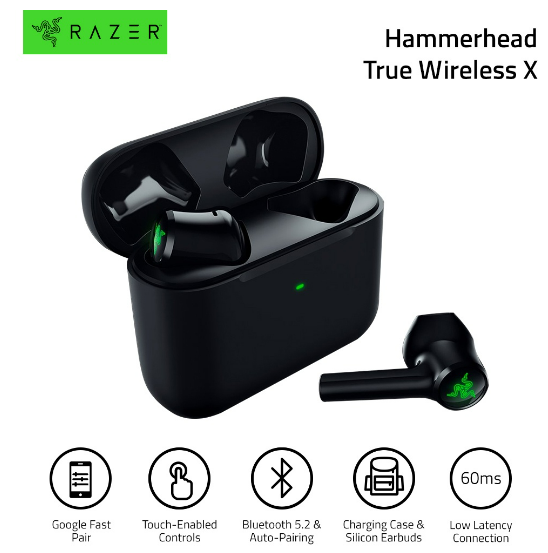 PRODUCT SPECIFICATIONS:
• 60ms low latency Gaming Mode
• Mobile app customization
• Custom-tuned 13mm drivers
• Bluetooth 5.2 with Auto-Pairing
• Google Fast Pair
• Touch-enabled controls
• Headphone frequency response: 20 Hz – 20 kHz
• Headphone impedance: 32 Ω
• Headphone sensitivity: 91 db @ 1 mW / 1 kHz
• Headphone input power: 8 mW (max input)
• Headphone drivers: 13 mm
• Headphone Connector: Bluetooth 5.2
• Battery Life: Up to 24 Hours (6 + 18) with Lighting On
• Up to 28 Hours (7 + 21) with Lighting Off
• Cable Length: N/A
• Charging Case: 0.09 lbs / 42 g
• Earbuds: 0.02 lbs / 10 g each
• Microphone pick up pattern: Omnidirectional
• Microphone signal-to-noise ratio: 64 dB
• Microphone sensitivity: -26 dBFS
• Compatibility: Devices with Bluetooth audio capability
• Smartphone app available for Android and iOS
• Supported Codecs: SBC, AAC
Highlights
• LIGHT UP YOUR IMMERSION
Light up your immersion with the new Razer Hammerhead True Wireless—cutting-edge earbuds destined to dominate the soundstage. Designed to dazzle in a blaze of RGB glory and decked out with ANC and a 60ms low latency Gaming Mode, brace your senses for an audio experience like never seen before.
• POWERED BY RAZER CHROMA™ RGB
With 16.8 million colors and a suite of effects to choose from, bring out your style and stand out from the crowd with the ultimate wireless earbud flex.
• 60MS LOW LATENCY GAMING MODE
Activate Gaming Mode to fire up the Razer Hammerhead True Wireless' leading performance while gaming on Bluetooth devices for a more seamless experience.
• IN-EAR DESIGN
Get a comfortable, secure, in-ear fit that offers enhanced noise isolation with our new design. Includes additional ear tip sizes for customized levels of comfort.
• MOBILE APP CUSTOMIZATION
Maximize your earbuds with the Razer Audio app. Tweak Razer Chroma™ RGB settings, remap touch gestures, customize the EQ, and get continuous improvements with over-the-air firmware updates.
The active noise-canceling ability of the earbuds is another advantage if you want to stay focused most of the time. Get up to 18 hours of continuous listening on a single charge, but if you disable the noise-canceling feature, you can get up to 28 hours. The Galaxy Buds Pro's features and aesthetically pleasing appearance are worth the money if you have it.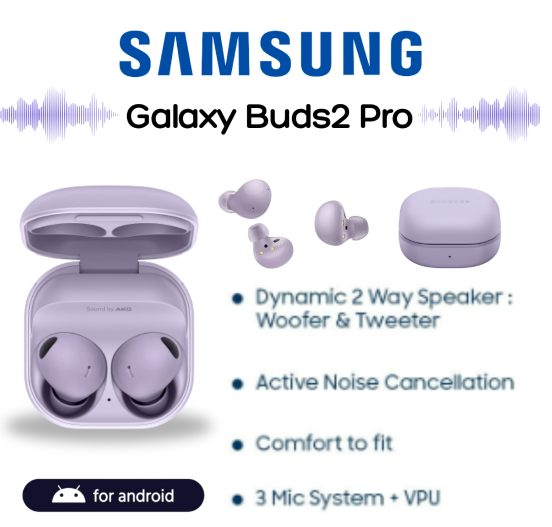 Product Description
Chipset: BES2500ZP
OS: RTOS
Speaker: Dynamic 2 Way : Woofer & Tweeter
Mic: 3 Mics + VPU
Battery: Play time: 5h / TTL 20h (ANC ON) *Bixby voice wake-up OFF 7.5h / TTL 29h (ANC Off)
Talk time: 3.5h / TTL 13h (ANC ON) 3.5h / TTL 14h (ANC Off)
Quick charging: 40min play / 3min charging (Wired, Wireless, D2D), 60min play / 5min charging, (Wired, Wireless, D2D) 150min play / 10min charging (Wired, Wireless)
*ANC off condition
*In case of wireless charging, Galaxy Buds2 should be put on the center of the charger in ordinary temperature
*Charging time is based on that battery power in earbuds is less than 30% when start charging
*Based on internal testing. Audio playback time tested by pairing a pre-production Galaxy Buds2 to a recently released Galaxy smartphone. Actual battery life and charging time may vary by usage conditions, number of times charged and many other factors.
*Play time may vary based on settings.
Sensor: Accelerometer, Gyro, Proximity, Hall, Touch, VPU(Voice Pickup Unit)
Compatibility: Android and Apple, Devices running Android 7.0 higher, with over 1.5GB of RAM
PC Buds Manager: Downloadable thru MS App. Store (Avail. above Win 10)
Convenience: Auto Switch, Bixby voice wake-up
No matter what you're doing, their unique ear hook design will hold them in place. They will also put up with hours of sweating exercise and might even run a marathon with you. The PowerBeats Pro should be your go-to headphones for a great alternative to expensive earbuds.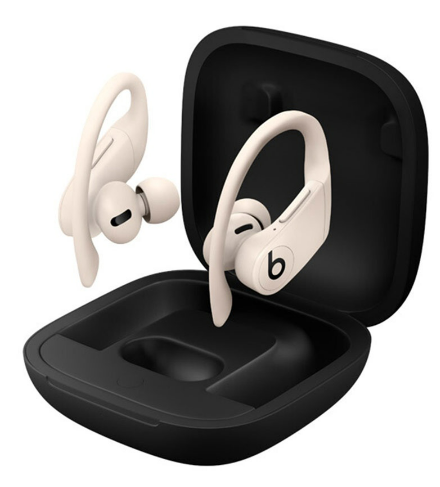 Beats-Pro Ture Wireless Stereo Bluetooth Earphones Earbuds Sweatproof Outdoor Sport Hearphones
1. Product Features:
* [ -button operation]: 5.0 automatic start pairing, HD binaural call, intelligent noise reduction, IOS power display, Siri voice control, mobile emergency power, multi-function use
* [Two connection methods]: Single/double free use, single ear listening, binaural listening HiFi stereo.
* [HIFI sound and deep bass]: Really natural, real sound, providing you with deep, accurate bass response
* [Using time]: 9 hours (more than 24 hours when used with a charging case)
* [IPX7 waterproof performance]: high grade waterproof makes it suitable for sports to prevent water ingress
* [Bluetooth 5.0]: Uses Bluetooth 5.0 technology to make the connection more stable and stable
* [Touch Control]: Built-in sensitive panel, you can control all calls/music by tapping
* [Comfortable to wear]: ergonomic design, super soft and replaceable earmuffs, perfect fit to your ears
2. Product Specification:
* Model Number: Beats-Pro
* Color: Black, White, Blue, Green
* Wireless Version : V5. 0+EDR ( both side ) ultra low consumption.
* Wireless Mode : A2DP 1.3/HF
* Wireless Frequency : 2.4Ghz
* Wireless Range: 15-25m
* Battery Capacity :Earbuds- 30mAh, charging dock : 300mAh
* Standby Time : Both ear can stand for 60 hours.
* Talk/Play Time : play back 2-3 hour, talk time 4 hour.
* Charging Time : 60 minute.
3. Packing List:
* 1 × Charging Case
* 2 × earbud ( left & right )
* 1 × Charging Cable
* 1 × User Manual
* 1 × Packing Box
The highs are never harsh, the mids are exceptionally clear with almost no distortion, and the bass is firm with a little punch. Even though the soundstage occasionally struggles, a problem with many wireless earbuds, the overall sound quality still outperforms some rivals.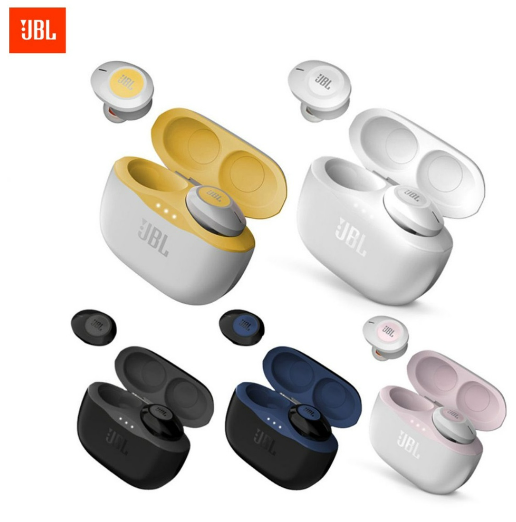 Phone Type: JBL-T120 Wireless Bluetooth Earphones
Brand Name: JBL
Control Button: Yes
Active Noise-Cancellation: Yes
Style: True Wireless
Wireless Type: Bluetooth
Connectors: None
Communication: Wireless
Vocalism Principle: Dynamic
Volume Control: Yes
Frequency Response Range: 20-2000Hz
Function: for Video Game
Function: For Mobile Phone
Function: HiFi Headphone
Function: Sport
Sensitivity: 96dB
Is wireless: Yes
Plug Type: Wireless
Codecs: Apt-X
Support Memory Card: No
With Microphone: Yes
Model Number: JBL T120TWS
Resistance: 14Ω
They are powerful in sound thanks to a 5.8mm driver featuring JBL Pure Bass sound and colorful in design.
The earbuds combined with the elegantly designed portable charging case provide 16 hours of unrestrained musical enjoyment.
Ergonomically shaped, they also ensure long lasting comfort. Equipped with intuitive and handy controls that are conveniently located on each earpiece, including one click access to Siri and Google Now.
Well we could not complete our product review without the cheapest version of Apple wireless Earbuds.
The 24-hour battery life of the charging case makes it portable. The ideal listening device for Apple consumers is, without a doubt, a pair of AirPods Pro earphones. Given that it is a high-end product, buying one could be expensive, but if you can afford it, you won't be regretful.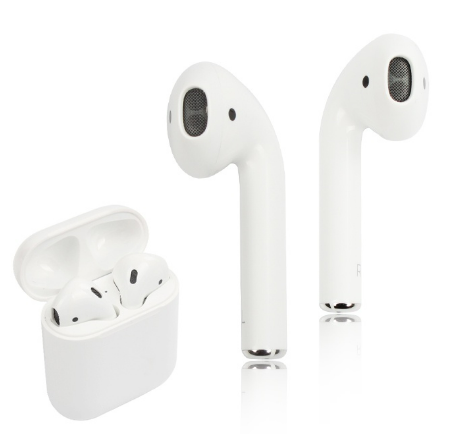 AirPods Gen2 function support:
Headset support Immersive HiFi Sound Quality,Wireless charging,Real-time power display and GPS positioning。Open the pop-up window of the cover to connect the device intelligently,Smart in-ear detection.
Open the pop-up window of the cover, connect the device automatically and intelligently. It has intelligent in ear detection, which can automatically switch between single earphones and dual earphones, or use intelligent touch to adjust the earphones. You can also change the smart touch gesture as you like.
The AirPods Gen2 is made of sweat resistant and water-resistant material, without fear of sweat erosion. It can support iOS and Android systems without worrying about compatibility.
*24 hours of battery life.
Other Gadget Reviews you might like
How to Add Wireless Charging to Any Smart Phone – Best (Cheapest) Choices for Wireless Adapters
Smallest Power Banks for Smart Phones in Philippines
Best Power Banks for Philippine Laptops – 7 Best Choices and Why you need to have one?