Whether you are just using Laptop for everyday activities like browsing the internet, watching your favorite movies or doing some PC games, laptops provide one of the best hand held entertainment device because of its multifunction capabilities and wide screen format (I personally love watching movies on them because you can easily switch your best and comfortable position and can still move around).
But due to the high GPU power consumptions, laptops easily drains out. Laptops are equipped with power-hungry components such as processors (CPU), graphics cards (GPU), and high-resolution displays. These components require a significant amount of power to operate, especially when performing demanding tasks like gaming, video editing, or running resource-intensive software.
Additionally since it uses a wide screen which consumes a lot of power as it provides visual images of the GPU. Laptop screens are one of the major power consumers. Bright and high-resolution displays require more power to provide a vibrant and clear visual experience. Increasing screen brightness or using features like backlighting or touchscreen functionality can further drain the laptop's battery.
Various background processes and software applications as well running on your laptop can consume power even when you're not actively using them. This includes antivirus scans, system updates, background syncing, and other software services that run in the background. Closing unnecessary applications or disabling certain background processes can help conserve power.
Now to be able to continue your desired laptop activities (especially when you are outside of your home) there is a need to have a power bank to sustain its functions. Like our cellphones which requires power banks, in oder to last several hours power banks for laptops provide this juice we needed.
Here are the advantages of using Power Banks for Laptops:
Portability: Power banks are designed to be compact and lightweight, making them easy to carry around. This portability allows you to use your laptop even when you don't have access to a wall outlet, making it convenient for travel, outdoor activities, or situations where power supply is limited.
Extended Battery Life: Power banks have large battery capacities that can significantly extend the runtime of your laptop. If your laptop's internal battery is running low or about to die, you can connect it to a power bank to keep it powered and continue working or using your laptop without interruptions.
Emergency Backup: A power bank acts as a backup power source for your laptop. In case of a power outage or when you're unable to find an electrical socket, the power bank can provide temporary power, allowing you to save your work, shut down your laptop properly, or continue using it until power is restored.
Device Charging: Many power banks come with multiple USB ports or other output options, allowing you to charge other devices simultaneously. This means you can charge your smartphone, tablet, or any other USB-powered device along with your laptop using the same power bank.
Compatibility: Power banks are designed to work with various laptop models and brands. They usually come with different adapters or connectors to accommodate different charging ports, ensuring compatibility with a wide range of laptops.
Rechargeable: Power banks can be recharged themselves, either by plugging them into a wall outlet or using a USB connection. This means you can recharge your power bank whenever you have access to power, ensuring it's ready for use when you need it.
It's important to note that when choosing a power bank for laptops, you should consider its capacity, output power, and compatibility with your specific laptop model. Different laptops have different power requirements, so it's essential to select a power bank that can deliver the necessary power to charge your laptop effectively.
Power banks for laptops are portable external batteries that can provide power to charge and run laptops and other devices. They typically come with a larger capacity and higher power output compared to power banks designed for smartphones or tablets.
Here are some key features and specifications to look for when considering a power bank for your laptop:
1.Capacity: The capacity of a power bank is measured in milliampere-hours (mAh) or watt-hours (Wh). A higher capacity means the power bank can store more energy and provide longer runtime for your laptop. Look for a power bank with a capacity that matches or exceeds your laptop's battery capacity.
2.Power Output: Laptops typically require higher power compared to smartphones or tablets. Ensure that the power bank you choose has a sufficient power output to charge your laptop. The power output is measured in volts (V) and amperes (A). For example, a power bank might have an output of 19V/3.42A, which would be suitable for charging most laptops.
3.Connectors and Compatibility: Check if the power bank comes with the appropriate connectors or adapters for your laptop. Some power banks include multiple connectors or offer interchangeable tips to accommodate various laptop models. Ensure that the power bank is compatible with your laptop's charging port.
4.Charging Speed: Consider the charging speed of the power bank. Some power banks support fast charging, which can charge your laptop more quickly. Keep in mind that the charging speed may vary depending on the power bank's output and your laptop's charging capabilities.
5.Safety Features: Look for power banks with built-in safety features such as overcharge protection, short circuit protection, and temperature control. These features help protect your laptop and the power bank from potential damage caused by voltage spikes or other electrical issues.
6.Portability: Consider the size, weight, and overall portability of the power bank. If you plan to carry it with you while traveling or on-the-go, choose a power bank that is lightweight and compact for convenience.
7.Rechargeability: Check the rechargeability options for the power bank. Most power banks can be recharged using a wall outlet or USB connection. Some advanced power banks may even support solar charging, allowing you to recharge them using sunlight.
Here are 7 lists of Power bank chargers for your laptops that are available in the Philippines.
-This is a Fast Charging Powerbank w/ Type-C & USB Input/Output Power Bank.
Specs included are listed below for your reference.
Brand: BAVIN
Model: PC036
Capacity: 20000mAh
Input:
• USB – 5V-3A,9V-2A, 12V-1.5A(18W MAX)
• Type-C – 5V-3A,9V-3A, 12V-3A,15V-3A,20V-3A(60W MAX)
Output:
• USB – 4.5V-5A,5V-4.5A, 5V-3A,9V-2A,12V-1.5A(22.5W MAX)
• Type-C – 5V-3A,9V-3A, 12V-3A,15V-3A,20V-3.25A(65W MAX)
Product Size: 90X30X190 (MM)
Color: Black / White
Packed Weight: 427g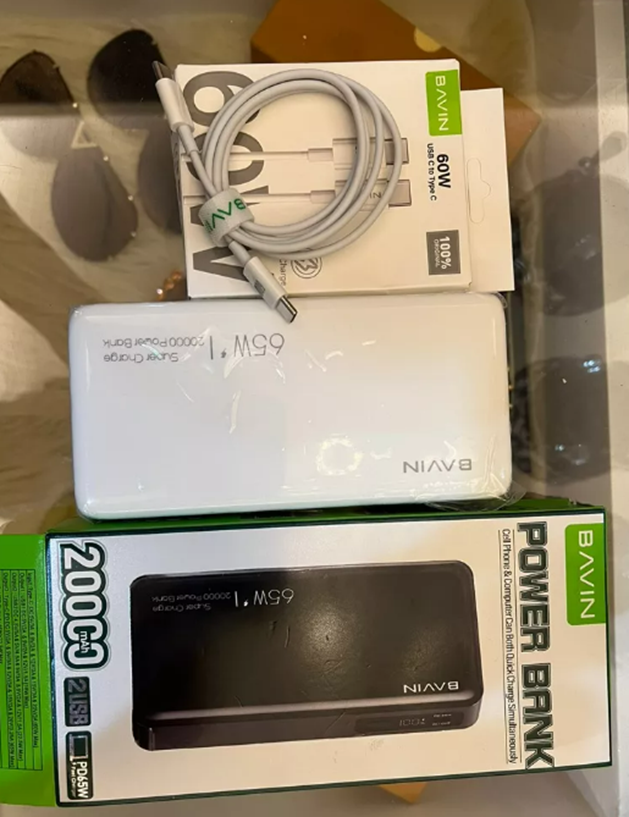 The Bavin PC036 is one of the best power banks for laptops when you just want to get the job done. At 65W, it can power most laptops through less power-intensive work activities.
This Romoss has 5O WATTS High Power USB-C 45W Two-way Quick Charge Notebook PD ChargingMulti-Protocol Compability3 OutputDesign with 3 Output ports, USB- can support two-way fast charge function for 45W Max.
It has a quick charging for 5V3A / 9V2A/ 12V1.5A can be achieved by USB-A output.
-First use the mobile power supply to 0% (complete discharge learning);
-Then charge the mobile power supply from 0% to 100% (completely discharge and charge Learn).
-When using the LED light product for the first time after receiving the goods, it is recommended to use up the power first, and then charge it for 2-3 hours before using it. If you do not use the power bank for a long time. Keep more than 30% of the power.If the battery is completely exhausted, it will automatiy enter the pre-charge state when charging the next time, and the time to fully charge will be 2-3 hours longer than the original, which not only slows charging but also affects the service life of the mobile power supply.
Romoss PPD20 has similar specs as compared to Bavin PC036
SPECS: Stated capacity (mAh) View more details.
Most of the latest smartphones have a battery with around 3000mAh, so a 10,000mAh power bank should be able to charge the smartphone up to three times and a 20,000mAh power bank more than six times.
Stated capacity is the capacity given by the vendor in milliamp hours (mAh). 20000 Battery type View more details. The technology of the battery that's used. 'Not stated' means the vendor hasn't made it clear which technology is used. Lithium polymer Weight (g).
The weight of the power bank in grams, without any cables or packaging. 480 Size (mm, H x D x W) Measured to the nearest millimetre. 28 x 161 x 72 Quick charge output View more details.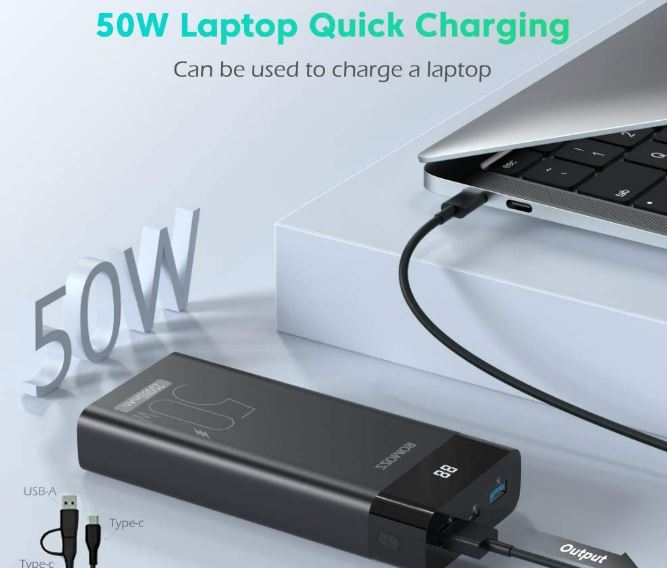 This power bank charger for laptops packs more power than the Romoss and Bavin model as it features a 20KmAh 100 watts charging capability.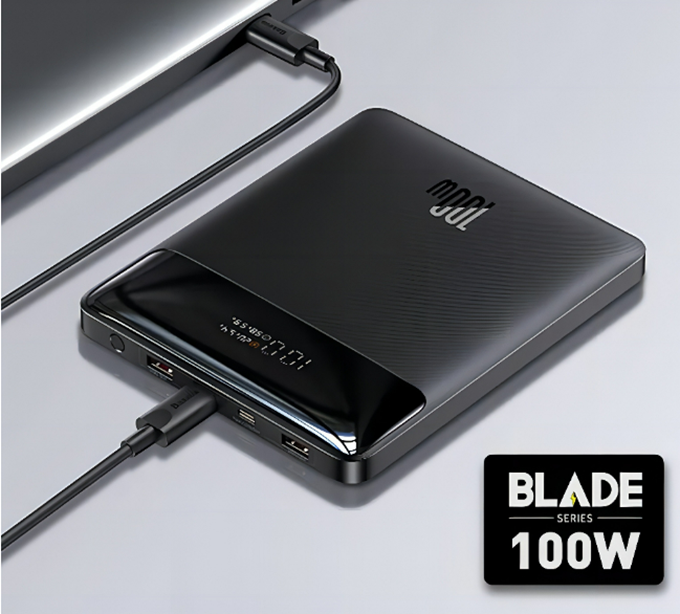 Name: Power Bank
Model No.: PPBLD100
Battery Type: Lithium-ion polymer battery
Capacity: 5000mAh/14.8V (74Wh)
Rated Capacity: 12000mAh(5V/3A)
Energy Conversion Rate: ≥75%
Type-C1/C2 Input: 5V/3A, 9V/3A, 12V/3A, 15V/3A, 20V/3.25A
Type-C1/C2 Output: 5V/3A, 9V/3A, 12V/3A, 15V/3A, 20V/5A
USB1/USB2 Output: 4.5V/5A(SCP), 5V/4.5A(SCP), 5V/3A, 9V/3A, 12V/2.5A
Type-C1+Type-C2 Output: 65W+30W
Type-C1/Type-C2+USB1/USB2 Output: 65W+30W
USB1+USB2: 5V/3A
Type-C1+Type-C2+USB1/USB2 Output: 45W+30W+18W
Total Output: 5V/9A
Size: 162*134*18mm
Weight: About 490g
This powerbank feature us much higher than the last power banks mentioned on the review. It has a maximum power out put of 150Watts, in case you are looking for a longer working hours with powerbank capability that provides a lot more electricity, then this is your next choice.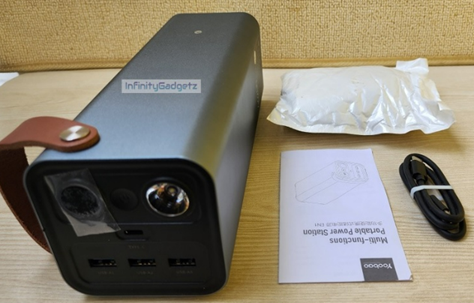 Features: -Quick Charge Support, LED Display, Built-in Inverter -Over-discharging, Short Circuit Protection, Over-charging, Over-temperature -3Output
-Useful for outdoor activities -Provide Power to notebooks, drones, car refrigerators, camping lights, projectors and other outdoor electrical equipment
Specifications: Model: EN1 Color: Grey Capacity: 46200mAh Battery
Type: Lithium Battery Total Input Power: 65W (Max)
USB C Input: DC 20V-3.25A / 15V-3A / 12V-3A / 9V-3A / 5V-3A Total USB
Output: 65W (Max) Type-C Output: DC 20V-3.25A / 15V-3A / 12V-3A / 9V-3A / 5V-3A USB-A1/A2/A3 Output: DC 12V-1.5A / 9V-2A / 5V-2.4A AC Output: 220V~50Hz 150W
Power of Light: 1W Dimensions: 82mm*81mm*277mm
Weight: 1.8kg about
As the features suggests, this is a beast of the power bank chargers for laptop category. Its power output is 200 Watts.
Remember as the power feature is increase there is an increase on the weight of the product as well.
But unlike the Yoobao EN1, it has a limited amount of sockets. With only 1 AC and 2 USBs, you have to plan carefully what you plug into it
Multifunctional Portable Energy Storage Power Supply Camping/Home/Outdoors/Car Jump Starter Emergency Power Source Powerbank Power Station Battery USB
– Jump Starter: 12V
– Rechargeable Li-Ion Battery
– Input charging power: CC/CV 15V/1.5A
– USB Output: 5V/2A 9V/2A
– Size: 240*88*106MM
– Working temperature: 20℃~60℃
– Storage temperature: 10℃~55℃
– Rated Power: 200W
– AC Output: 220-240v 50Hz
– MAH: 20000mah / 40000mah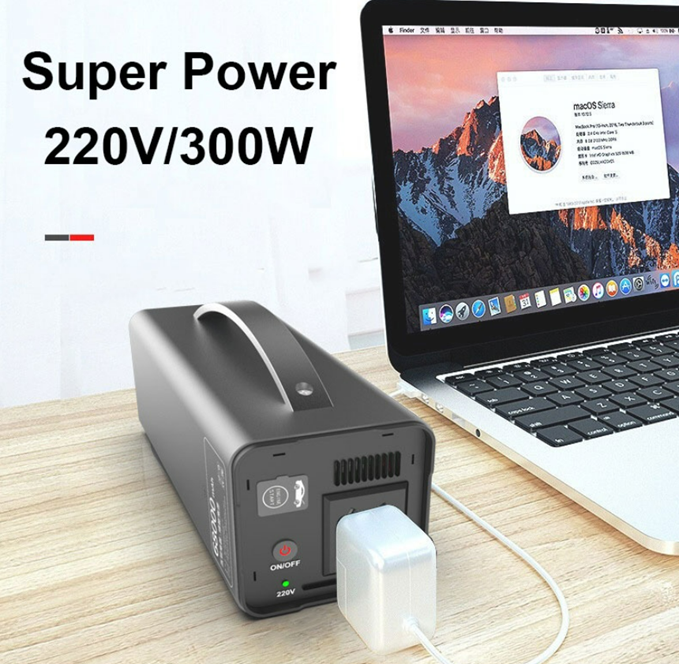 If you are not on the move and would like to have a reliable battery source for say a days duration of brown out especially in the Philippines, this this heavy weight charger is for you. This product is about 3kg in weight so you need to consider this when buying.
With a power of 320W, you can do multiple charger for your devices especially laptops.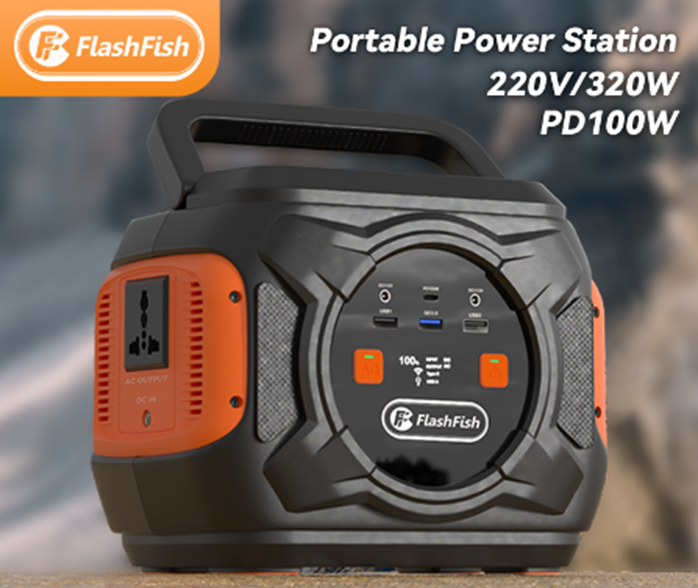 -Battery: 292Wh Lithium-ion Battery
-AC Output: 320W Rated (Peak Value 600W)
-DC Output: 12V/10A (Max) -PD Type-c: 100W
-QC 3.0: 5-12V/3A -USB Output: 5V/ 2.4A
-Wireless Charger: 10W -DC Input(Adapter):15V/4A
-DC Input(solar panel):5V-24V
-Type-C Input:PD 100W
-Capacity:292Wh
-Weight:3.2kg
-Size:23.8*18.2*15.9cm
This is the biggest so far within our laptop power bank chargers. It packs a power of 500Watts.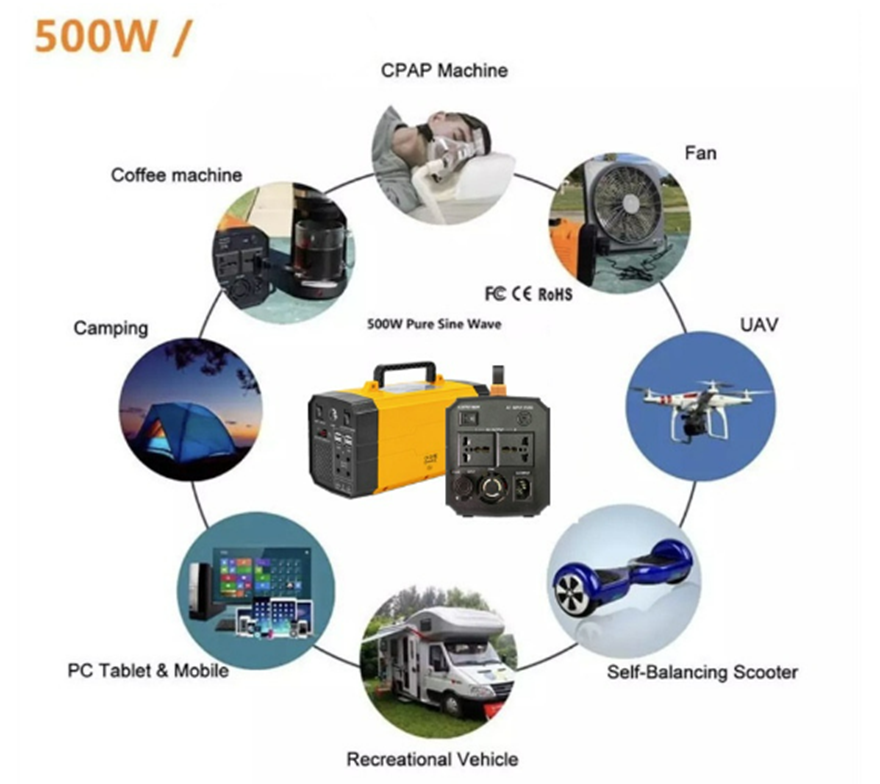 It is the heavierst at 4 kg
Emergency Power for lights, TV, Electric fans, phone charger, USB charger, Laptop charger. For power outage, Brownout no problem, always have your emergency protable power easy to charge with AC, Solar or Car DC charger.
(When the fan needs to cool down, it will automatically turn on)
When the power is insufficient, it will prompt to charge to ensure that the UPS power is sufficient. Load Power (W): 500W
Solar Power (W): 18V 100W
Application: Home, outdoor, travel Output Voltage (V): 220-230V 60hz Work Time (h): 24 Hours Battery: Lithium battery 80000mah 288Wh Total Efficiency: Rated 500W max , Peak 1000W Output
Waveform: Pure Sine Wave AC
Input Voltage: 220V-240V DC Output:
4 ports:12V/8A (10A MAX) USB Output: 4 ports:5V/ 6.2A
Size:30x20x15cm
Weight;4kg
Conclusion
For all of the products featured here, the best choice would depend on where do you intend the product. If you are on the go, select the product that has the lowest weight, but for standby power bank chargers for laptop, you have the option the select the heavier products but provides more charging power.

Need power bank for your Cellphones? Check this articles
Best Solar Power Banks and Charger – What are the Benefits?
Best Wireless Power Banks for your Smartphone in Philippines