Affiliate marketing is becoming a trend now that most of our purchases can be done online. The recent lockdowns we encountered prompted Filipinos to embrace a major shift in doing buying and selling products.
And this shift in trend created business opportunities for those know how to embrace the existence of online businesses. I will guide you through on how to start Affiliate Marketing on this article discussion. I tried Shopee affiliate recently so I have a basic understanding of how it works.
What is Affiliate Marketing
Affiliate marketing is a type of online business where the promoter of a certain product earns commission from the sale of that product. In simple terms these are called commissions.
You will get a certain percentage of earnings from that transaction after it is successfully completed.
Below is an example of Shopee affiliate program where a 1.5% earnings or commissions will be given to those who are part of the program. For example if the product costs 37,988 amount, I will get 1.5% of 37,988 amount when the sale is completed. Roughly 569 pesos if this product is sold. The "get link" button is where I will get the referral link.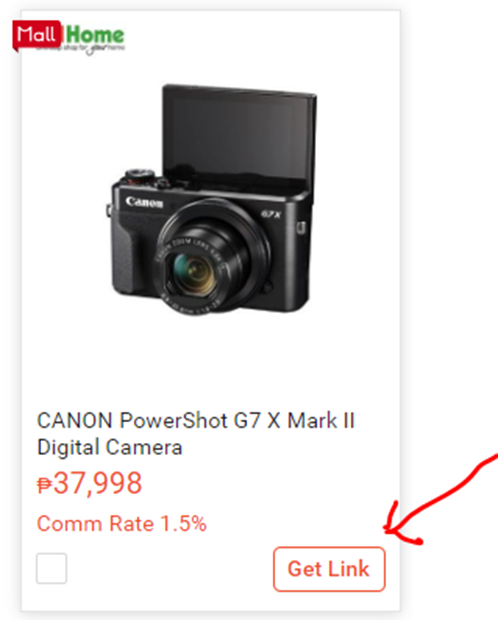 Its actually a good way of earnings a side income. Affiliate marketing offers the promoter of the product a small reward for each product but when the number of products successfully bought from your promotion is high, you can get substantial earnings. There are a lot of people showing how they earn from Affiliate Marketing in Youtube while under the Shopee Affiliate Program.
What are the top Affiliate Marketing Platforms in the Philippines
There are 3 main sources of affiliate marketing program in the Philippines. Involved Asia, Shopee affiliate program and Lazada affiliate program.
For my experience, Shopee affiliate program is the best of the three, I have been using Involved Asia but my earnings are not moving. I may have made a mistake somewhere but I always doubt how others have got earnings from Involve Asia. I usually get more earnings posting links directly from my Shopee affiliate program.
Of the three however, Involve Asia is faster in terms of paying and showing your commissions. For Shopee affiliate program, it will take you at least 6 months before you can get your earnings. Anyway if you are not in a hurry, I still prefer to wait with Shopee Affiliate income.
What are the different types of Affiliate Marketing
There are three main types of Affiliate marketing that exists today. Out of this types you can select your most preferred way of monetizing your affiliate.
1.Pay per Click affiliate
This type of affiliate marketing works when you posted a link of a certain product that pays its referrer (you) when a visitors sees and clicks on the link. You can get an automatic earnings every time a new customer does the clicking. This is regardless whether the customer will buy or sign up on the products.
Its one of great way of earnings directly from a sponsor but take note that note all will offer this because the conversion for the customer is low.
An example is the Affiliate link from Shopee Affiliate program, when you register using the below link, I will earn a smaller commission. To give you an idea, the income is just a few cents only.
2. Pay per Sale
This is the type of Affiliate program that is normally used in Philippines when joining an Affiliate marketing program. You can make commission when a sale is completed. So customers need to complete the transaction first before I can make some earnings.
The work is a bit easy for Affiliate marketer as we just have to paste the link in our social media channels and if the customer likes the product they can purchase it using our link. The drawback is that not all people will click and buy because it involves money.
The key of getting higher earnings is that the promoter should have an authority or influence ability so people will be convince to buy using the link. I am still new on this so I have low earnings.
But I do earn some money, I will show you later. Its still relatively small even though I was doing this for the past three months already, so it takes time. Its still easy as I just need to post the links.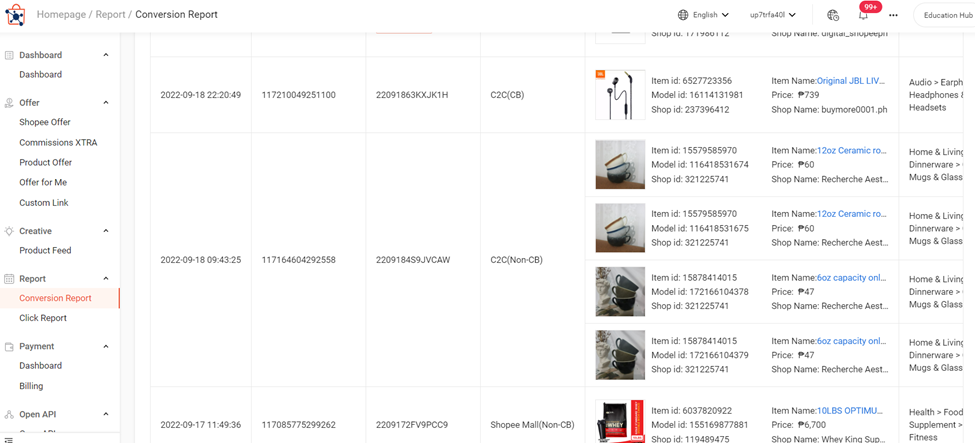 3. The third type of affiliate marketing is Pay per Lead.
This type of commission when completed gives essentially higher commission as compared to the other two types. But it is relatively more difficult to have earnings. Customer has to click the link and complete certain task like completing a survey form and then signing up for the promoted link.
It's a bit difficult to ask you to sign and pay up for something the first time right?
How to join an Affiliate Marketing
Go to shopee Affiliate program link. Type and paste url https://affiliate.shopee.ph/
Complete the registration process, You can link your FB account for faster login features later.
Fill in your personal details
Type details of your social media. This is where you will post your affiliate program links to start earning. Wait for the sign up approval before posting links.
After sign up, go to dash board and select a product you want to promote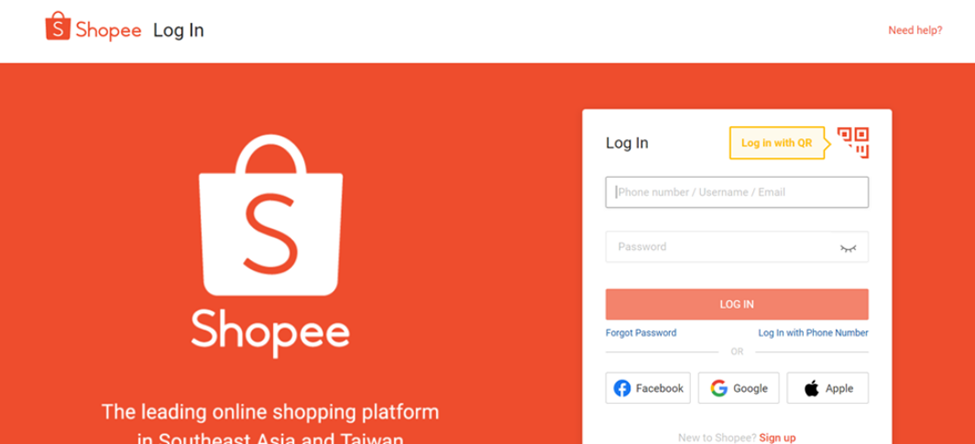 6. On the product offer side select an individual product, click get link and post this on your social media.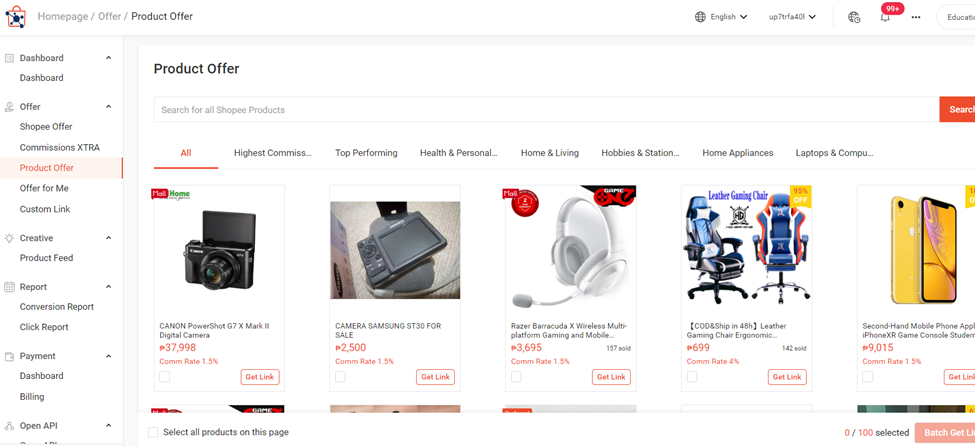 7. To view your earnings click payment dash board
Below is my sample earnings for the month of September 2022. Not much but as we become consistent on posting links, the earnings will soon increase. Its not a get rich quick scheme so be patient.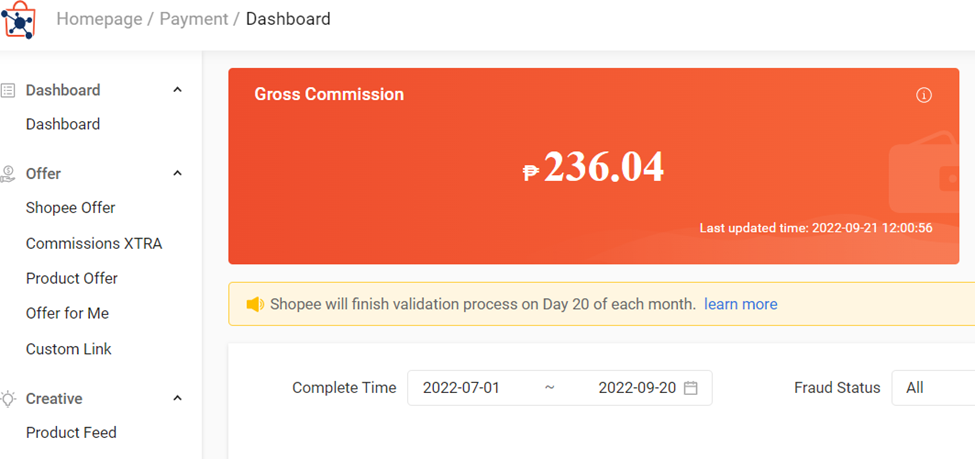 Can you actually earn from Shopee Affiliate Program?
As you can see from my snap shot above the earnings for September 2022 is just 236.04 pesos. Shopee affiliate program still need to approve this later before we can cash out. As I mentioned the process of our first withdrawal will take at least 6 months. So we are just patiently waiting and accumulating earnings.
I have not reach 1k pesos per month but consistently we have 100 to 300 peso affiliate commission earnings.
How to Withdraw my Affiliate program Earnings
You can accomplish this via the Seller Center or Shopee app. Choose WITHDRAWAL under "Seller Balance," then enter the desired bank account and withdrawal amount. You can also choose TRANSACTIONS to see a history of your withdrawals. Choose Withdraw under the Balance Overview section on the My Balance page.
Final thoughts
Affiliate marketing and affiliate programs certainly helps us get side income earnings, but patience is needed for people to click your affiliate links so just be patient to wait for the results.
Its relatively easy to do to earn some money as well.
Hope the article helps you. I have written more details on my other website, will paste the link soon.