Every important transactions requires your PSA birth certificate, especially the updated version. So its best to have a copy anytime. After all getting this done requires some time to wait for the results.
How to get you PSA Birth Certificate for Walk in
Here are the requirements for Birth Certificate for 2022 if you are going to go for a walk in transaction. Do not forget to bring any of the ID mentioned on the listed below.
Application Form (this form is provided at PSA)
Valid ID for both the owner and requester of document
What are the valid IDs to be presented?
Office/Company ID
School ID (unexpired)
SSS/GSIS/Pag-Ibig/PhilHealth
Professional License
Senior Citizen's ID
Driver's License
National ID
Passport
NBI Clearance
PhilPost ID
Voter's ID
PWD ID
For those who are asking someone to take it for them, be sure to have authorization letter or special power of attorney to prevent your helper to keep coming for additional requirements.
Prepare a fee for the payment (at least 200 pesos)
One you are inside the designated office of Philippine national statistics office here are the items you need to fill up.
Complete name of the child (first, middle, last)
Complete name of the father
Complete maiden name of the mother
Date of birth (month, day, year)
Place of birth (city/municipality, province)
Whether or not registered late. (If registered late, please state the year when it was registered.
Complete name and address of the requesting party
Relationship to the child
Number of copies needed
Purpose of the certification
After filling up forms, go to designated lines. A number will be given to you and wait for it to be announce.
Once your number is called, present the documents and pay the transaction fee.
If you managed to complete all transactions early, you can get it also within the day, just ask for the schedule of the release so you are not waiting in the office for a long time.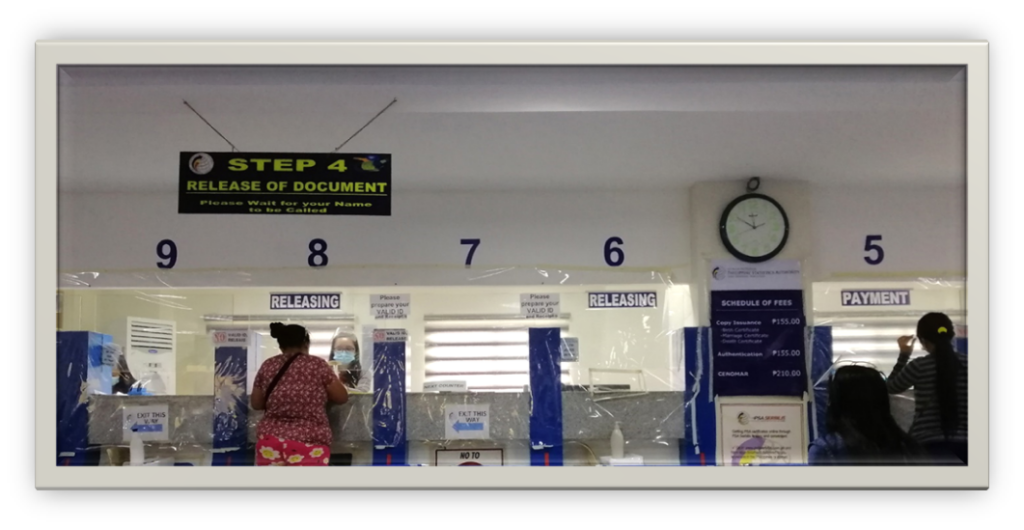 How to get you PSA Birth Certificate for Walk in SM Malls
If your place is a bit far from the nearest PSA office, you can visit any SM Malls and you can do the same walk in transaction. It's a bit more convenient here because of the accessibility and mall environment.
The release of the PSA Birth Certificate thru SM Business centers takes around 15 – 30 days. So if you are not in a rush in getting your PSA Birth Certificate, this is the best for you.
Step 1: Request a PSA Birth Certificate form from the Payment Center Staff at the local SM Business Center. Make sure you give the right information when asked for it, then submit it with the necessary documentation.
Step 2: Direct your money to the cashier. PSA Birth Certificate Copies are P155 each plus service charges (P25). It costs less than making a request online.
Step 3: After 15–30 working days, pick up your PSA birth certificate. Bring the receipt, a valid ID, and any other required paperwork, such as an authorization letter if you are having someone else pick it up.
How to get PSA Birth Certificate Online
For those who do not have time to go the Philippine statistics office, you can request for your PSA Birth certificate online as well.
Depending on where you are, the PSA Birth Certificate online will be available in 2 to 7 business days. Your requests for PSA birth certificates can be processed quickly and easily in this manner.
Visit www.psahelpline.ph (previously nsohelpline.ph) and complete the online PSA application form by following the on-screen instructions.
Wherever you want your PSA birth certificate delivered, enter the address on the application form. For any online service Orders for PSA Birth Certificates they can be paid for any 711 locations across the country. Additionally, you can use VISA, Mastercard, Bancnet ATM, or Globe Gcash to test out additional services. Fee is less than 400 Pesos.
You can verify you PSA Birth Certificate orders online here
Final Thoughts
I think its more convenient to get your PSA Birth certificate online if you have a day job. Or during the weekends when you have more free time. The drawback is you need to wait for a few days for these two methods.
If you have urgent need of your PSA Birth certificate then it is best to schedule to get from the office as within the day it can be released. If your too busy you can authorized someone to do instead.